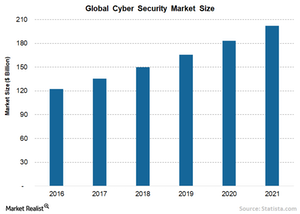 HACK: The World's First Cybersecurity ETF
By Peter Barnes

Nov. 20 2020, Updated 12:40 p.m. ET
Fund overview
The ETFMG Prime Cyber Security ETF (HACK) is an ETF (exchange-traded fund) that aims to track the price and yield performance of the Prime Cyber Defense Index (PCYBER) before fund fees and expenses. The index consists of companies (CSCO) (JNPR) providing cybersecurity solutions that include hardware, software, and services.
HACK is the first ETF in the market that focuses on cyber security. The fund uses an indexing approach to achieve its investment objective.
Article continues below advertisement
About the index
The Prime Cyber Defense Index (PCYBER), the underlying index of HACK, uses a rules-based investment methodology to select companies involved in the cyber security industry. The companies in the index are either classified as cybersecurity infrastructure providers or cybersecurity service providers. The index provider reconstitutes and rebalances the index on a quarterly basis.
Industry overview
The stringent regulations governing various industries are the primary growth drivers for the cybersecurity market. Governments and companies (SYMC) (SPLK) need to implement these regulations to avoid hacking and penalization, thereby driving the adoption of cybersecurity solutions.
According to Statista, the current global market size of the cybersecurity market is $135 billion, which is expected to rise to $202 billion by 2021. The ETFMG Prime Cyber Security ETF (HACK), the world's first cybersecurity ETF, offers investors exposure to this evolving industry while being a transparent and efficient vehicle for investment.