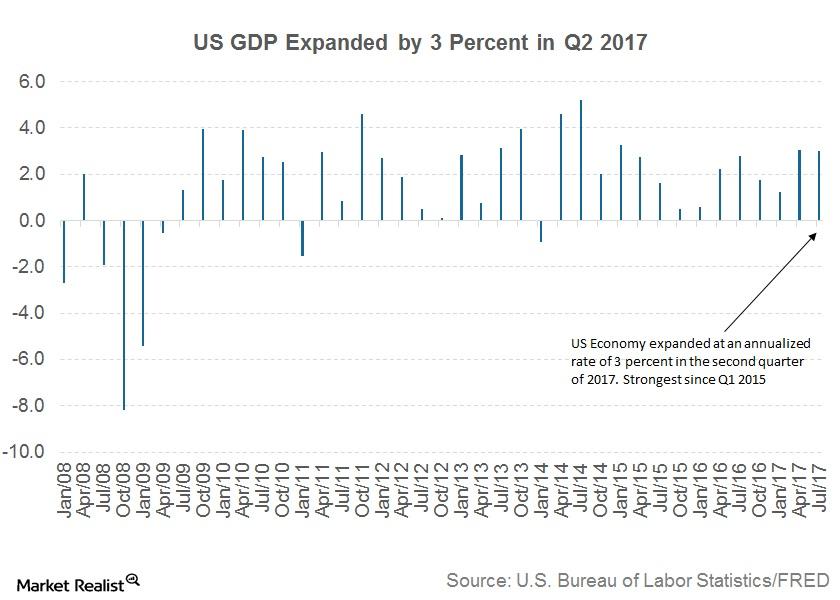 FOMC's James Bullard Has Three Questions for US Monetary Policy
Three questions for the US monetary policy
St. Louis Federal Reserve President James Bullard, in his recent presentation at the Truman State University, tried to answer the following three questions about the US economy:
Is US economic growth poised for a rebound in the 2H17, as compared with 1H17?
Is the downside inflation (TIP) surprise in 1H17 likely to reverse in 2H17?
Will the continued strong performance of US labor markets put upward pressure on inflation?
Bullard's answer to all these three questions was the same: "Probably not."
Article continues below advertisement
Summary of Bullard's answers
Bullard said that the current growth rate in the US economy is likely to remain consistent with recent quarterly growth—near the 2% mark. Bullard pointed out that 4Q17 growth could see a bump, however, as the damage from the recent hurricanes gets repaired.
Bullard was not confident about a pullback in inflation (VTIP) before the end of this year and didn't suggest that he believes that a lower level of unemployment is likely to push inflation (SCHP) higher.
Key takeaways
The third estimate of the 2Q17 GDP was reported at 3.1%—a strong bounce from 1.2% in 1Q17. Real GDP per capita, however, remains close to the 2% mark at 2.4%.
The impact of lower unemployment on inflation (STIP), of course, remains puzzling, as the relationship in the Philips curve continues to be challenged. Growth fueled by an ultra-loose monetary policy could be the reason for this lag, and only once the stimulus is reduced will we know the true rate of inflation (TDTT) growth.