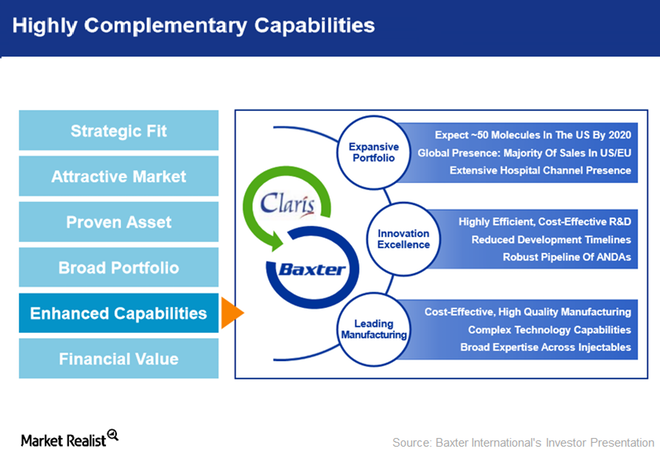 Effect of Claris Injectables Acquisition on Baxter's 2017 Growth
Acquisition overview
On July 27, 2017, Baxter International (BAX) completed the acquisition of Claris Injectables, a subsidiary of Claris Lifesciences. The acquisition was announced in December 2016 and is expected to help expand and strengthen Baxter's core capabilities. It could help achieve the company's aim to establish itself as the leader in the injectables market. Claris Injectables' legacy business forms part of Baxter's IPS (integrated pharmacy solutions) segment. With the Claris acquisition, Baxter aims to offset some of the negative impacts of the US cyclophosphamide competition on the company's IPS sales.
For a detailed discussion of the acquisition rationale and related financials, read the series Analyzing Baxter's Recent Acquisition of Claris Injectables.
Article continues below advertisement
Acquisition benefits and synergies
According to Baxter International, Claris Injectables has more than 50 products currently available in the market and around 100 new products in the pipeline. The acquisition is expected to add about 20 new products to Baxter's portfolio throughout 2018 and 2019. Beginning in 2020, the company is expected to add ten to 15 new products to its portfolio. Three Claris Injectables manufacturing plants are also now part of Baxter International.
The deal is expected to be modestly accretive to Baxter International's adjusted earnings in 2017. Thereafter, it's expected to be increasingly accretive. For fiscal 2017, Baxter expects Claris Injectables to add ~$55.0 million to the company's IPS segment sales. IPS sales growth is expected to be 4.0%–5.0% for 2017. In 3Q17, Claris Injectables is expected to contribute ~$20.0 million to the company's total sales.
If we look at Baxter International's guidance for 2020, Claris Injectables is expected to be earnings accretive of about $0.05 in 2020.
Peers Abbott Laboratories (ABT), Becton Dickinson (BDX), and Zimmer Biomet Holdings (ZBH) have also been focusing on strengthening their core capabilities. They've undertaken a number of acquisitions as well as strategic divestments in the process. Investors who want an industry-focused exposure to these companies can consider investing in the iShares US Medical Devices (IHI). Baxter International makes up ~4.2% of the total holdings of IHI.