How Ventas's Dividend Yield Compares
Revenue and earnings Ventas (VTR) is a major REIT in the United States and Canada. The company's revenue growth slowed from 18% in 2015 to just 5% in 2016. The growth was driven by all of its segments, through resident fees and services, office building and other service revenue, and income from loans and investments, […]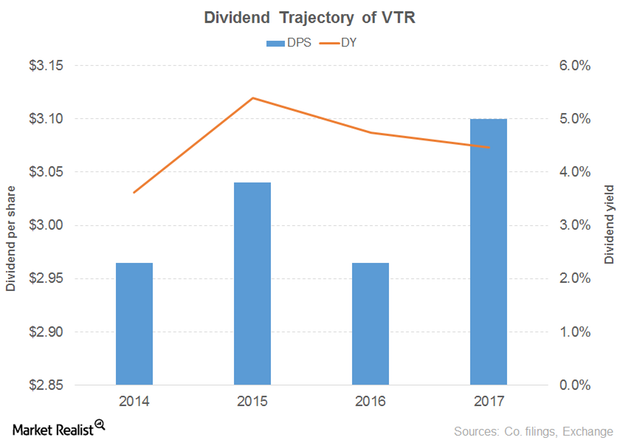 Revenue and earnings
Ventas (VTR) is a major REIT in the United States and Canada. The company's revenue growth slowed from 18% in 2015 to just 5% in 2016. The growth was driven by all of its segments, through resident fees and services, office building and other service revenue, and income from loans and investments, and was partially offset by interest and other income.
Its operating costs and other expenses (including interest expenses), rose 21% in 2015 but remained flat in 2016. The flat growth in 2016 was due to a lower debt extinguishment loss and merger costs. A higher gain on real estate dispositions contributed towards 49% growth in its EPS (earnings per share), which fell 22% in 2015. The company has generated positive FFO (funds from operations) since 2014, in addition to recording growth.

Article continues below advertisement
Article continues below advertisement
Revenue and EPS in 1H17
In 1H17, Ventas recorded 5% revenue growth, driven by its office operations segment. Its operating costs and other expenses rose 1%. Further gains on real asset dispositions helped it post EPS growth of 14%, and its FFO grew 4%.
Dividend
The company's dividend fell in 2016, after rising in 2015. In 2017, the dividend rose. Its dividend payout fell between 1H16 and 1H17.
Stock price
Ventas stock has been beaten by the iShares US Real Estate ETF (IYR) by a wide margin. IYR has exposure to healthcare REITs. The SPDR S&P Bank ETF (KBR) has outperformed VTR in 2017, after being beaten by the latter in 2H16.
The Oppenheimer Ultra Dividend Revenue ETF (RDIV) offers a dividend yield of 3.8%, at a PE (price-to-earnings) ratio of 16.3x. It has a 10% and 2% exposure to real estate and financials, respectively. The ALPS International Sector Dividend Dogs ETF (IDOG) offers a 3.4% dividend yield at a PE ratio of 15.8x. The ETF has a 10% exposure to both financials and healthcare.