What Could Drive TechnipFMC's Dividend Yield
How TechnipFMC intends to maintain its yield FMC Technologies and Technip merged to become TechnipFMC (FTI) in 2017, an international provider of subsea, onshore, offshore, and surface projects. The synergy aims to combat the challenges of low oil prices and a challenging outlook through cost cutting and the enhancement of efficiency. The company recorded 51% revenue […]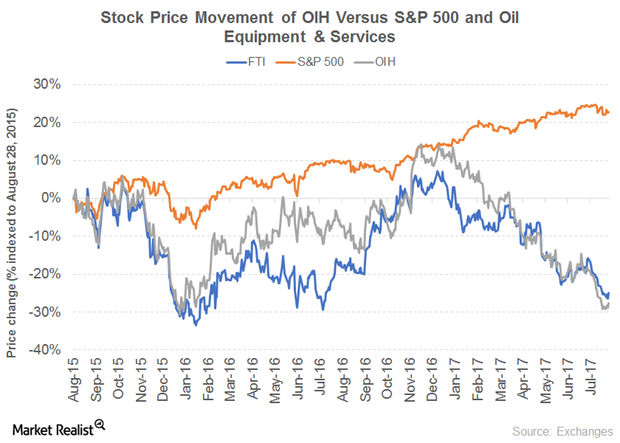 How TechnipFMC intends to maintain its yield
FMC Technologies and Technip merged to become TechnipFMC (FTI) in 2017, an international provider of subsea, onshore, offshore, and surface projects. The synergy aims to combat the challenges of low oil prices and a challenging outlook through cost cutting and the enhancement of efficiency. The company recorded 51% revenue growth in 1H17. The growth was mainly driven by the onshore and offshore, surface technology, and subsea segments. Its operating costs rose 56%.
Article continues below advertisement
Article continues below advertisement
TechnipFMC's earnings per share
Higher operating, merger, and interest costs led to poor EPS (earnings per share) in 1H17. The company's interest expenses increased by more than seven times. Its 1H17 EPS amounted to one-sixth of its 1H16 EPS. Its free cash flow fell due to lower operating cash flow and higher capital expenditure.
FMC Technologies saw better returns than the oil and gas equipment and services industry and S&P 500 in 2016. However, both the stock and the industry have been outperformed by the S&P 500 this year, as shown in the chart above.
The new company's dividend plans
The new company did not pay any dividends in 2016 and 1H17. Its first quarterly dividend will be based on its 3Q17 results. The chart above shows the old company's dividend yield. The First Trust Value Line Dividend Index ETF (FVD) has a substantial stake in utilities. It offers a dividend yield of 2.1%, at a PE (price-to-earnings) ratio of 20.4x. The ETF has a 15% exposure to small-cap stocks. The Schwab US Dividend Equity ETF (SCHD) has a significant exposure to the consumer non-cyclical space. It offers a dividend yield of 2.8%, at a PE ratio of 20.3x. The ETF has a 1% exposure to small caps.