Consumers' Business Condition Expectations Continue to Improve
Consumer expectations for business conditions Consumer expectations data, which forms the only non-leading component of the Conference Board Leading Economic Index (or LEI), is collected through two different surveys. One of these surveys is conducted by the University of Michigan and Reuters, where consumer expectations for economic conditions in the next 12 months are collected, […]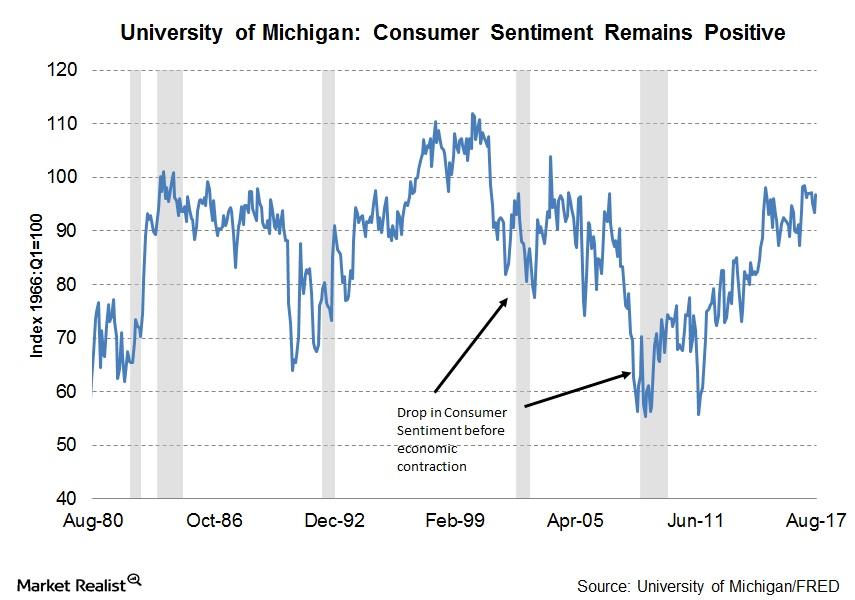 Consumer expectations for business conditions
Consumer expectations data, which forms the only non-leading component of the Conference Board Leading Economic Index (or LEI), is collected through two different surveys. One of these surveys is conducted by the University of Michigan and Reuters, where consumer expectations for economic conditions in the next 12 months are collected, and the second survey, conducted by the Conference Board, records consumer expectations for business conditions six months ahead. The average of these two surveys is used in the LEI.
Article continues below advertisement
Article continues below advertisement
Recent data
The latest LEI report showed that average consumer expectations for business conditions stood at 0.76 in August, compared with a revised reading of 0.61 in July. This figure marks a second consecutive increase in the index. This increase in average consumer expectations, considered a positive sign for the US economy, was recorded despite a rise in geopolitical tensions in August.
Conclusion
The LEI has been an excellent predictor of changes in business cycles. Based on the August report, it would be safe to say that the US economy's expansion is likely to continue. However, in September, there have been some developments that could increase volatility (VXX) and impact bond (SHY) (PCY), equity (QQQ), and currency markets (CEW). The impact of the Fed's hawkish stance, rising geopolitical tensions involving North Korea, and Hurricanes Harvey and Irma on the US economy will be seen in the next LEI report, which is to be released October 19, 2017.