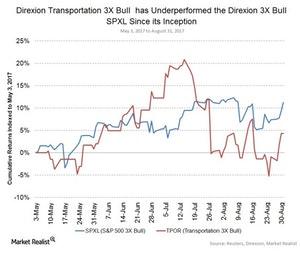 What to Expect from Transportation Stocks This Fall
Direxion
Would buying planes, trains, and automobiles help?
The Dow Transportation Index has only returned 3% through August this year, underperforming the S&P 500 by quite a margin. Planes and trains have gone in opposite directions—rail stocks have recovered a bit while airline companies are struggling. Shippers like FedEx and UPS are just doing okay.
The good news is the Transport Index tends to perform fairly well the last three months of the year with packages, shipping, and families traveling for the holidays. Whether it rises or not, TPOR (Transports 3X Bull) can be a good tool in your investing workshop. See how TPOR has performed since its inception below. Note the underperformance not only for the year but also recently in particular.
Source: Bloomberg. Past performance does not guarantee future results.
Article continues below advertisement
Market Realist
What happened in the transportation sector in 2017?
The airline industry has maintained its stellar performance in the last five years. The SPDR S&P Transportation ETF (XTN) has risen ~137.0% as compared to the S&P 500's (SPY) (SPX-Index) increase of 75.3%. In January 2017, Morningstar stated in a note that improved capacity, better management, and fewer price wars have improved the sector's performance. However, airline stocks also are sensitive to various market factors such as oil prices, which are a major expense for the industry.
President Trump's promise to increase infrastructural spending gave hope to the industrial and transportation sectors. As of August 31, the industrial sector (XLI) has risen 18%, and the transportation sector (XTN) has increased 15% since the election. A few months back, the White House released a budget that included a $200 billion allocation for stimulating public-private partnerships in infrastructure investment to rebuild roads, bridges, railways, and waterways. Trump also announced a privatization proposal for America's air traffic control system, which received support from some major airlines.
Airline stocks have tumbled in 2Q17 owing to weak guidance. As of August 31, the SPDR S&P Transportation ETF (XTN) has returned 4.7% year-to-date.
Despite the recent performance, the transportation sector could turn around with the holiday season approaching. How the administration's proposal turns out will also affect the sector. This is the busiest time of the year for travel companies and packaging and shipping services. Historical returns have shown that the transportation sector has risen during the holiday season. Investors can consider the Daily Transportation 3X Bull (TPOR), which seeks to triple the results of the Dow Jones Transportation Average Index. The Index invests 42% of its holdings in road and rail stocks, 29% in air freight and logistics, and 22% in the airlines sector. TPOR has returned 4.3% year-to-date since its inception on May 3, 2017.
In the last part of the series, we'll discuss how the financial sector has fared to date and if it could be a good choice during the holiday season.