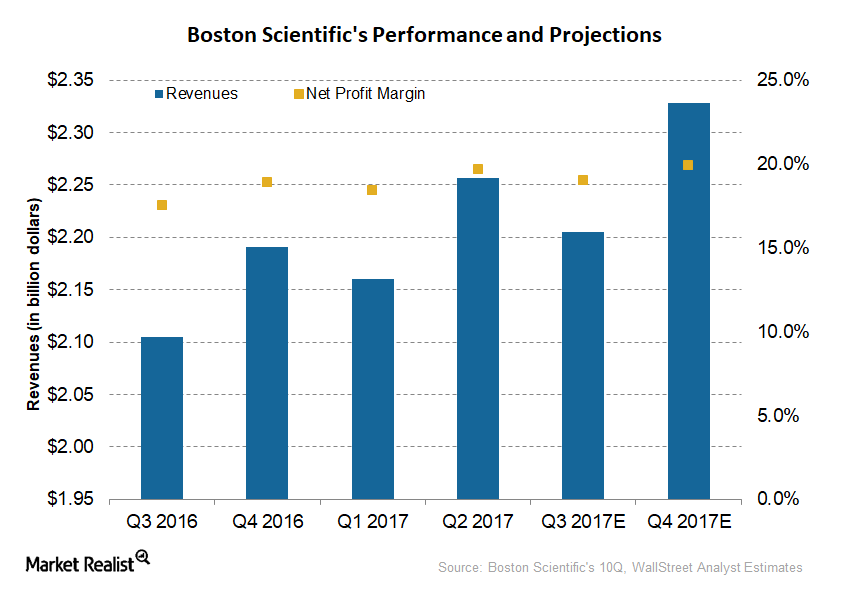 Boston Scientific's Updated 2017 Guidance
BSX's fiscal 2017 guidance
Boston Scientific (BSX) expects to register 2017 revenues of $8.9 billion–$9.0 billion. That compares to the company's previous revenue guidance of $8.8 billion–$8.9 billion. The updated revenue expectations represent a sales growth rate of 6.0%–7.0%. On an operational basis, Boston Scientific expects to register sales growth of 6.0%–8.0%.
In fiscal 2017, Boston Scientific expects to register diluted adjusted EPS (earnings per share) of $1.23–$1.27 compared to the previous guidance of $1.22–$1.26. Despite the Lotus recall challenges and the EndoChoice Fuse sales losses in 1Q17, Boston Scientific increased its 2017 guidance during its 2Q17 earnings release.
Article continues below advertisement
Quarterly guidance
Boston Scientific expects to record 3Q17 revenues of $2.18 billion–$2.21 billion, representing a year-over-year operational growth of 4.0%–5.0%. That includes the EndoChoice and Symetis acquisitions contribution of 140 basis points. Currency headwinds are expected to have a negative impact of around 100 basis points.
The company's adjusted diluted EPS guidance in 3Q17 stands at $0.29–$0.31. That compares to $0.27 in 3Q16. The GAAP (generally accepted accounting principles) EPS is expected to be $0.16–$0.18.
According to analysts' estimates for 2017, Boston Scientific's competitors Medtronic (MDT), Stryker (SYK), and Abbott Laboratories (ABT) are estimated to have revenues of $29.5 billion, $12.3 billion, and $26.5 billion, respectively, in their current fiscal years.
Investors looking to gain exposure to Boston Scientific can invest in the Vanguard Growth ETF (VUG), which has a 0.36% exposure to BSX.