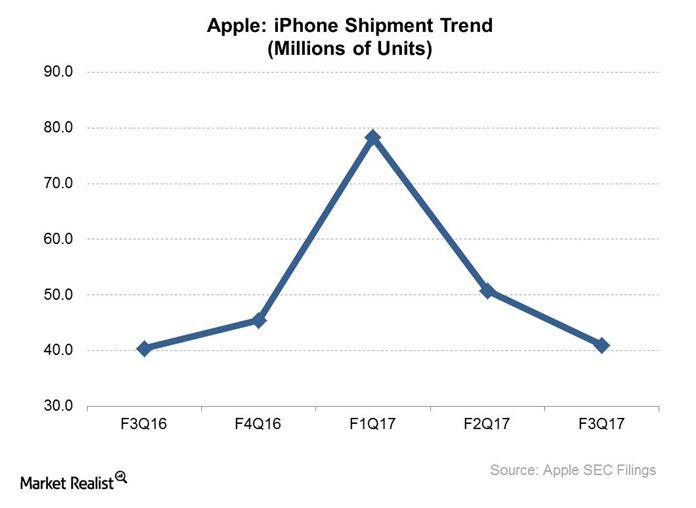 Behind the iPhone X: Breaking Down Apple's Price Discrimination
The iPhone price is the same in dollars as in pounds
Apple (AAPL) has stuck to its tradition of releasing its new iPhone models in September, but it veered away from a pricing culture that it has practiced for years. Apple typically suggests different retail prices in dollars and pounds for new iPhones, but it has changed that practice with the radically redesigned iPhone X.
For the iPhone X, Apple has suggested a retail price in US dollars and in British pounds for US (SPY) and UK (EWU) buyers, respectively. In the US, the basic iPhone X with 64 GB (gigabyte) storage will start at $999, which is similar to 999 pounds in the UK. The iPhone X model that features the 256 GB storage will cost $1,149 in the US and 1,149 pounds in the UK.
Due to currency exchange rates, Apple's suggested iPhone X prices imply that the company is asking British customers to pay a bit more for the device than US purchasers.
Article continues below advertisement
Tax-inclusive and tax-exclusive prices
However, Apple's price discrimination for iPhone X is not without basis. The retail price the company has suggested for the US market excludes sales taxes, while the suggested UK price includes the VAT (value-added tax).
Without the VAT, the UK price of the 256 GB iPhone X model falls to 957.50 pounds, which is about 100 pounds more expensive than if the dollar price of the device was simply converted into pounds.
Potentially more UK profits
If the higher price of the iPhone X in the UK implies a higher profit margin, it would be great for Apple—if the smartphone sells like hotcakes in the country.
But with Apple facing smartphone competition from Samsung (SSNLF) and Alphabet (GOOGL), it will be interesting to see how the price discrimination affects iPhone sales.