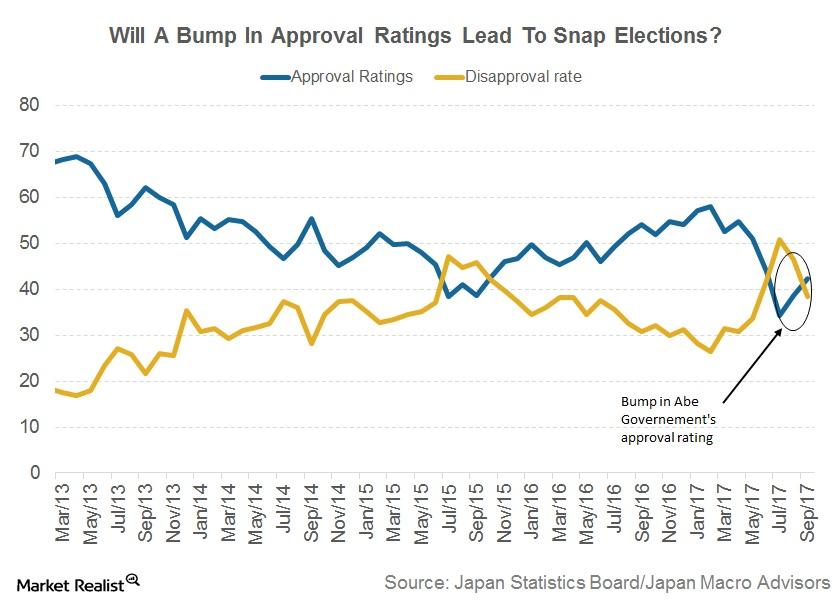 Bank of Japan Sees Rising Political Uncertainty as a Risk
Japanese Prime Minister Shinzo Abe could announce snap elections
According to news reports, Japanese Prime Minister Shinzo Abe could be calling for a snap election next month to capitalize on the increased approval ratings in August. Ratings for Abe and his government have taken a hit, falling below 30.0% in July after reports that he may have favored his friends for a price cut on a land deal. His ratings, however, have bounced back after the rise of tensions in North Korea and a cabinet reshuffle in August.
Article continues below advertisement
Political uncertainty to remain high
There is a series of important events coming up in Japan: the possible snap elections, budget negotiations for fiscal 2018, and the nomination the next BOJ (Bank of Japan) governor. There's a strong link between the Abe government and the monetary expansion program by the BOJ. The program, called Abenomics, has received strong support from the Japanese prime minister. The markets could be skeptical if a new government supported the current accommodative policy or even reappointed the BOJ governor Haruhiko Kuroda.
Will this uncertainty impact Japanese markets?
Such high levels of uncertainty are likely to have an impact on the Japanese economy. The discontinuance of Abenomics could tighten the policy and lead to higher rates, which could impact Japanese equities (EWJ) and Japanese government bonds (BNDX). The divergence of the monetary policy between the United States, the European Union, the United Kingdom, and Japan (DXJ) has kept the Japanese yen under pressure and helped maintain the competitiveness of Japanese exporters. In case of a reversal in policy, the Japanese yen (FXY), in the absence of any geopolitical events, could appreciate, causing distress to the export-dependent nation.
In the next part of this series, we'll analyze the price action of the Japanese yen (YCS) in recent weeks and how it could be impacted by the rise in uncertainty.