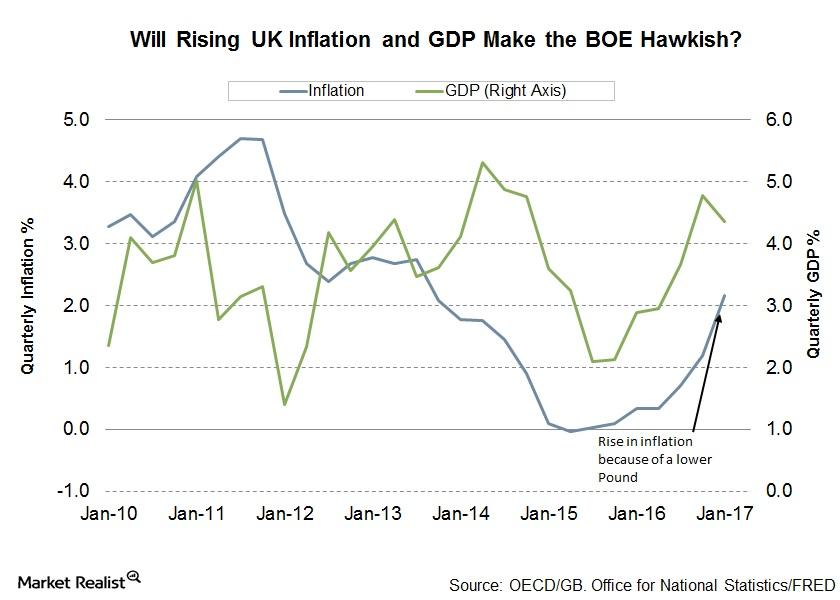 Will a Hawkish Bank of England Raise Interest Rates Soon?
Bank of England leaves rates unchanged
In the recent Bank of England (or BOE) policy meeting, interest rates were left unchanged at 0.25%. The amount of government and corporate bond purchases was also left unchanged. The last meeting took place on August 3, 2017, amid speculation that the BOE will likely turn hawkish in response to improved economic conditions in the first quarter. However, the BOE was more dovish than expected. The decision to leave rates unchanged had a vote of 6–2 compared to 5–3 in the previous month.
Article continues below advertisement
Inflation and unemployment could drive yields higher
The inflation (TDTT) rate in the United Kingdom (EWU) has been above the target with a recent reading of 2.6%. The unemployment rate has fallen below 4.5%. Economic data were positive, so two members of the monetary policy committee voted for a rate hike in the August meeting. If incoming economic data continue to improve, bond (TOTL) traders will most likely price in higher rates in the future, which could lead to higher yields in the UK (HEWU) bond market.
BOE is likely to stay put
Uncertainty surrounding the Brexit negotiations will probably keep the BOE grounded. Economic performance is expected to improve, and the BOE could turn hawkish. But that may not lead to a rate hike, at least until the Brexit negotiations close. UK (FXB) bond yields are likely to move higher because of external pressure of higher global yields, which could lead to a steeper yield curve in the United Kingdom.