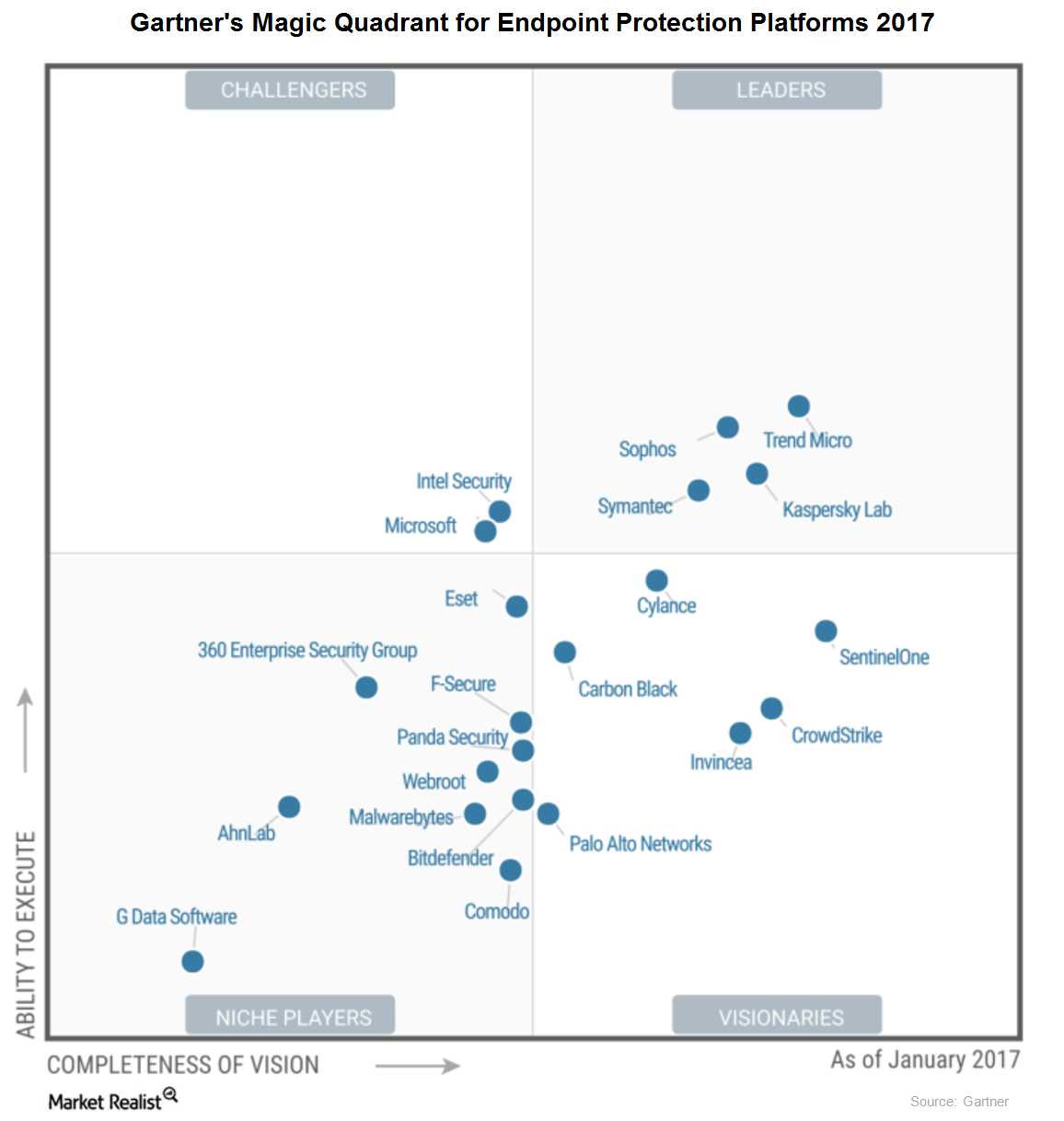 Why Symantec's Enterprise Security Segment Is Inclined toward the Cloud
Increased growth and activity in APT and EDR space
Earlier in this series, we discussed Symantec's (SYMC) Enterprise Security segment's performance in fiscal 1Q18.[1. fiscal 1Q18 ended June 30, 2017] We also discussed the company's planned launches of new versions of its ATP and EDR offerings.
ATP (advanced threat protection), DLP (data loss prevention), data encryption, and secure connectivity are the essential components of corporate infrastructure.
In late May 2017, Microsoft (MSFT) acquired Hexadite to strengthen its position in the cybersecurity space. It incorporated Hexadite to enhance WDATP (Windows Defender Advanced Threat Protection) and protects approximately 2 million devices.
According to Research and Markets, the EDR (endpoint detection and response) market is expected to grow at a CAGR[2. compound annual growth rate] of 25% to ~$2.3 billion by 2021 from $749.0 million in 2016.
Article continues below advertisement
Article continues below advertisement
As the chart above shows, while Intel Security (INTC) and Microsoft (MSFT) featured in Gartner's Challengers category, Palo Alto Networks (PANW), a leading cybersecurity company, made it into the Visionaries category. Panda Security, SentinelOne, Symantec, Trend Micro, Sophos, and Webroot are the leaders in this space.
Enterprise Security segment's increased focus on cloud
Symantec's Enterprise Security segment revenues include website security offerings revenues of $350 million, which was down 1% on a year-over-year basis. Later in this series, we'll discuss the sale of Symantec's Web Security business to DigiCert.
This sale also highlights Symantec's enhanced focus on the enterprise cloud security market. The company refreshed its cloud security offerings portfolio in fiscal 4Q17 to enable customers to utilize secure PaaS (platforms-as-a-service) and public cloud infrastructure.
According to Morgan Stanley (MS) and Gartner estimates, cloud security growth is set to outpace on-premise growth. As enterprises shift or plan to shift their storage and business to the cloud, it's critical for Symantec to strengthen and expand its presence in the cloud-based security space.
The operating margin of this segment increased substantially to 17%, driven by the company's cost-savings initiatives and expense synergies from several recent acquisitions. We believe this trend could continue in the coming quarters, enabling Symantec to improve its margins.