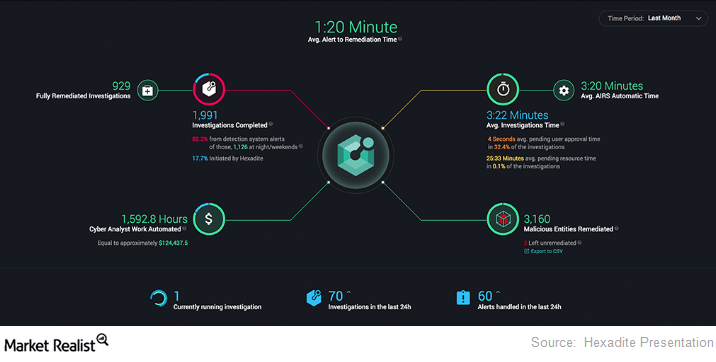 Why Microsoft Acquired Hexadite
Microsoft targets cybersecurity space via Hexadite
In the week ended May 26, 2017, Microsoft (MSFT) announced the acquisition of Hexadite. According to Calcalist, Microsoft has agreed to acquire Hexadite for $100 million. Hexadite is an Israel-based (ISL) (EIS) cybersecurity firm. Microsoft and Hexadite have yet to confirm the acquisition.
The exponential increase in cyberattacks has necessitated a solution that empowers organizations to go from alert to remediation within minutes at scale.
Hexadite employs AI (artificial intelligence) and ML (machine learning). It scrutinizes cyberattacks, investigates each alert in seconds, and enables companies to take action. It ingests alerts from various sources like Syslog, email, and APIs (application programming interfaces).
This information allows Hexadite to help cybersecurity teams list, manage, and schedule multiple potential threats. It can be incorporated into existing firewall solutions, enhancing productivity and cost efficiency
Article continues below advertisement
Article continues below advertisement
Hexadite's funding and standing in cybersecurity
Formed in 2014, Hexadite has headquarters in Boston, while its R&D (research and development) center is located in Israel. To date, Hexadite has raised $10.5 million in seed capital from Hewlett-Packard (HPQ) Ventures, TenEleven, and YL Ventures.
Hexadite was featured in Momentum Partners' Sector Watch: Security Orchestration and Automation in its Cybersecurity Market Review: Year End 2016 publication. Momentum Partners is a boutique cybersecurity-focused advisory investment bank.
Later in this series, we'll discuss Microsoft's strategic acquisition of Hexadite, Israel's cybersecurity space, and its connection with the US.