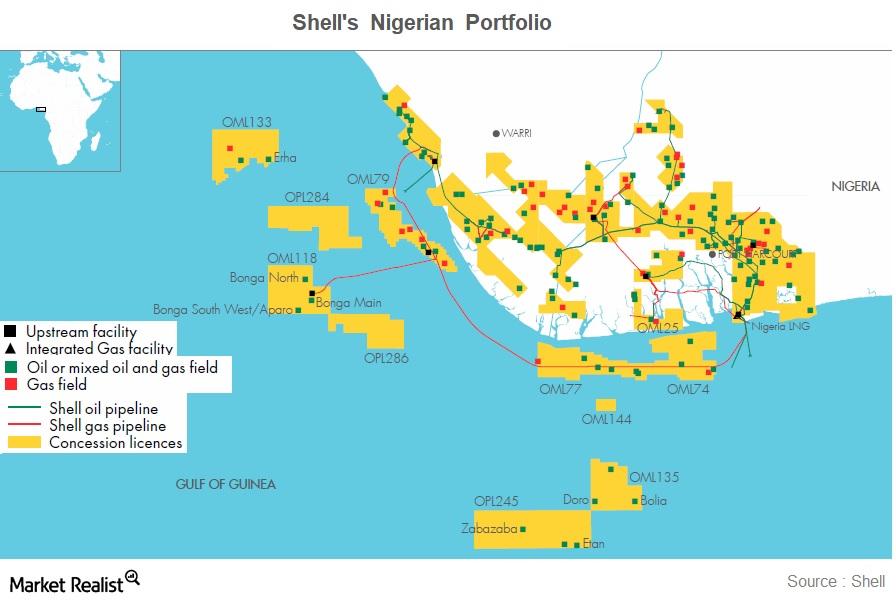 Why Shell's Gbaran-Ubie Project Is Vital to Upstream Portfolio
By Maitali Ramkumar

Aug. 30 2017, Updated 2:27 p.m. ET
Shell's Gbaran-Ubie phase two begins production
Royal Dutch Shell (RDS.A) has begun production at the Gbaran-Ubie Phase 2 project in Nigeria. This follows the Phase 1 project at Gbaran-Ubie. The overall project aims to provide LNG supply to the Nigerian Power Plant. Plus, it will also supply LNG to an independent power plant in the Niger Delta. Thus, Shell's Gbaran-Ubie project is quite vital to the Nigerian community.
The Gbaran-Ubie project consists of four major areas: Gbaran Phase 2A, Gbaran Phase 2B, Soku, and Bonny. Gbaran 2A contains the Gbaran, Koroama, and Epu fields. Gbaran 2B consists of Kolo Creek F1 and F2 reservoirs. The project is supposed to have peak production of 175,000 boepd (barrels of oil equivalent per day) in 2019. The project is a part of Shell's new upstream assets, which are likely to produce ~1 million boepd by 2018. We'll look at the upstream portfolio details in the next part of this series.
The stakeholders of the Gbaran-Ubie Phase 2 project include operator Shell with a 30% stake, Nigerian National Petroleum with a 55% stake, Total (TOT) with a 10% stake, and ENI (E) with a 5% stake.
Article continues below advertisement
On achieving production from Phase 2, Shell's upstream director, Andy Brown, stated, "Today's announcement is a positive step for Shell's global gas portfolio. It is also good news for Nigeria as gas from Gbaran-Ubie Phase 2 will strengthen supply to the domestic market and maintain supply to the export market."
Series outline
In this series, we'll look at Shell's overall performance. We'll look at Shell's robust upstream portfolio, its changing downstream portfolio, and the company's overall strategy. We'll also examine whether Shell's leverage and liquidity position have improved as a result of the strategy.
We'll then switch to Shell's market performance beginning with stock performance, moving average trend, and its price forecast range based on implied volatility. Plus, we'll review analysts' opinion on Shell, its dividend estimate for the next quarter, and changes in institutional holdings. We'll conclude by comparing Shell's forward valuations with peers.