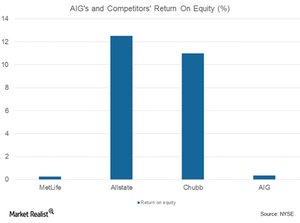 Why AIG's Net Income Fell on a Year-over-Year Basis
Net income
American International Group (AIG) reported 2Q17 earnings per share (or EPS) of $1.53. Its 2Q17 EPS beat analysts' estimates of $1.20, backed by strong operating performance sparked by the company's Consumer Business division.
AIG reported net income of $1.1 billion in 2Q17, reflecting a substantial decline of ~42.1% from its 2Q16 net income. AIG is expected to post EPS of $1.22 in 3Q17, which reflects an ~20.3% decline from its 2Q17 EPS. The company is expected to report revenues of ~$11.8 billion in 3Q17.
AIG reported after-tax operating income of $1.4 billion in 2Q17, reflecting a marginal rise of ~7.7% from its after-tax operating income reported in 2Q16.
On an operating basis, the company reported general operating expenses of ~$2.2 billion in 2Q17, reporting a decline of 7.8% from the general operating expenses posted in 2Q16.
Article continues below advertisement