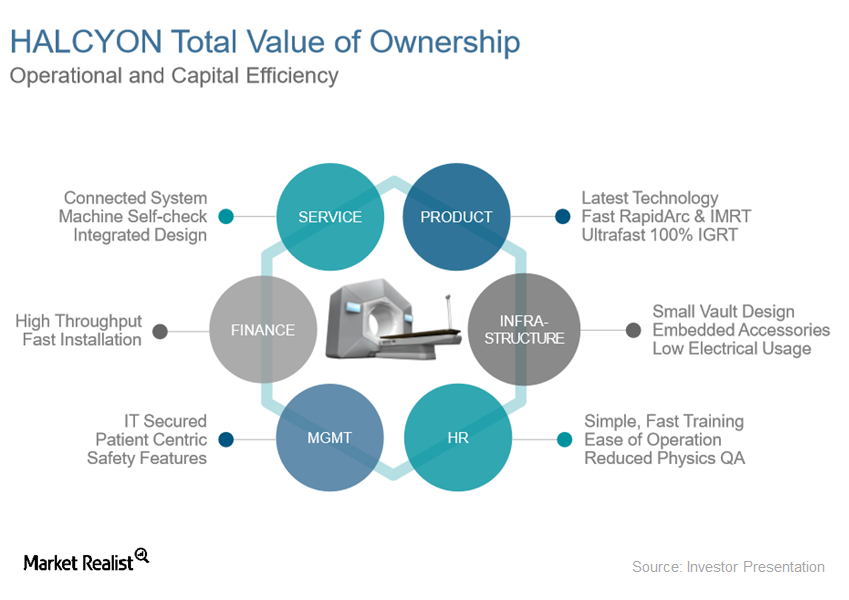 Varian's Halcyon Treatment System Sees Emerging Market Demand
Halcyon
The Halcyon system, Varian Medical Systems' (VAR) recently launched cancer treatment device, aims to simplify and enhance IMRT (image-guided volumetric intensity modulated radiotherapy). The device has received clearance by the FDA (US Food and Drug Administration). By next year, Varian expects to receive regulatory approvals for the device in China and Japan. For more information on this, read Varian Medical Systems Gets New Product Approval.
The company aims to expand the availability of high-quality cancer treatment around the world with the launch of Halcyon. The device also aims to reduce the total cost of ownership.
Article continues below advertisement
Market penetration
Varian Medical Systems received orders from ten countries during 3Q17. On July 26, 2017, the company received a new Halcyon order from Belgium, to be installed in September 2017. On July 27, Varian announced a strategic collaboration with US company PetCure Oncology, which will include six Halcyon treatment centers and use of the company's RapidPlan and Aria software.
According to the company, emerging markets are expected to see high demand for Halcyon, driven by governments' plans for the development of high-throughput cancer centers. With Halcyon's faster treatment times, these markets will be able to meet their patients-per-day volume requirements. Over the last four years, Varian has made significant investments in India, China, and Brazil, which will help its Halcyon sales in these countries.
Other US medical device companies with a presence in the oncology technology market include Boston Scientific (BSX), Accuray (ARAY), and GE Healthcare (GE). Investors can get diversified exposure to Varian with the Vanguard Total Stock Market ETF (VTI), which has a ~0.04% exposure to Varian. Next, we'll discuss Varian's opportunities in the proton therapy market.