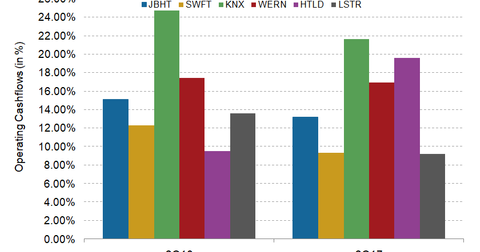 Truckload Carriers' Operating Cash Flows after 2Q17
By Samuel Prince

Updated
Trade cycle of truckload carriers
Previously, we looked at the debt levels of the truckload carriers and their capacity to service their debt. In this part, we'll gain some insight into the operating cash flows (or OCF) of the road transportation majors we're covering in this series.
Operating cash flows measure the cash management ability of a carrier. OCF highlights the company's ability to manage its operating assets and operating liabilities. Higher operating cash can result either in higher reinvestment in the business or increased cash distribution to shareholders.
Article continues below advertisement
OCF-to-revenue ratio
In the chart above, we used the operating cashflows-to-revenue multiple. Normally expressed as a percentage of revenue, this ratio compares a road carrier's operating cash flow to its revenues. 
The ratio offers important insight into a company's ability to generate cash from its revenues. A company's OCF-to-revenue ratio emphasizes the carrier's ability to convert its revenues into cash.
OCF-to-revenue of truckload carriers
From the chart above, you can see that only Heartland Express's (HTLD) OCF-to-revenue ratio has risen in 2Q17 in the peer group. The company's ratio rose to 19.6% in 2Q17 from 9.5% in 2Q16. However, HTLD's revenues have decreased substantially in 2Q17, which reflects improved cash conversion with lower revenues.
Normally, a higher OCF-to-revenue ratio is preferred, as it means the carrier has improved its operating cash management. For J.B. Hunt Transport (JBHT) this ratio was 13.2% in 2Q17, down from 15.1% in 2Q16. Swift Transportation's (SWFT) ratio was 9.3% in 2Q17 compared with 12.3% in 2Q16.
In the entire peer group, Knight Transportation (KNX) has the highest OCF-to-revenue ratio—it was 21.6% in 2Q17 for KNX compared to 24.7% in 2Q16. Investors should pay attention to companies with higher OCF-to-revenue ratios. A lower ratio can indicate weak business conditions and difficulties associated with converting revenues into cash.
For Werner Enterprises (WERN), the ratio hasn't changed much in 2Q17. It was 16.9% in 2Q17 compared with 17.4% in 2Q16. Landstar System (LSTR) has the lowest OCF-to-revenue ratio of 9.2% in 2Q17 among the discussed truckload carriers. This may be attributed to the asset-light nature of LSTR's Transportation (XLI) segment.
Next, we'll look at the capital expenditure of the truckload carriers after their 2Q17 results.