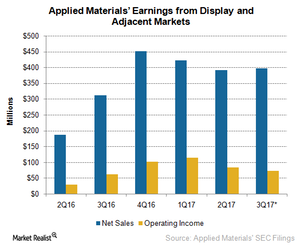 Could the OLED Display Act as AMAT's Revenue Catalyst in the Future?
AMAT's Display division
Applied Materials (AMAT) is losing some share in the semiconductor system market to Lam Research (LRCX) and KLA-Tencor (KLAC). However, it is expanding its presence in the display market as consumer electronics transition from LCD (liquid crystal display) to OLED (organic light-emitting diode).
AMAT's Display division supplies products such as chemical and physical vapor deposition and array tests that helps display manufacturers like Samsung (SSNLF) Display and LG Display overcome major technical challenges in OLED manufacturing.
Article continues below advertisement
Display division's earnings
AMAT's Display revenues more than doubled on a YoY basis to $391 million in fiscal 2Q17, but they fell 7.3% on a sequential basis because of supply constraints in the OLED market. Japan's Canon Tokki, the only manufacturer of a particular type of OLED equipment, is having difficulty coping with rising demand. As the company expands capacity supply, constraints would ease, and the OLED market could witness strong growth. This would drive AMAT's Display revenues significantly.
In the meantime, weakness in the Display segment would be more than offset by strength in Semiconductor System and Global Services as Display accounts for only 12% of the company's revenues.
AMAT's efforts to boost revenues in Display segment
While the display industry overcomes supply constraints, AMAT is building capacity to address the upcoming demand for LCD and OLED equipment. According to a report by DigiTimes, the company is building a new $99 million facility in Taiwan (EWT), as its existing facility is already operating at its full potential.
The transition to LCD is complete with all old television sets replaced by LCD screens. Now, the transition to OLED has gathered momentum. AMAT expects OLED to present a $17 billion opportunity in 2017 as its adoption increases beyond television and into smartphones, especially Apple's (AAPL) iPhone 8.
OLED opportunity
AMAT expects demand for OLED displays to remain high for the coming few years as the market faces a supply shortage. In a conference call, AMAT's chief financial officer, Robert Halliday, stated that just 38% of smartphones are expected to have OLED displays in early 2018, which would increase to 55% by 2020 and 67% by 2021 as supply constraints ease.
The company expects OLED adoption to expand beyond smartphones to other visual computing devices such as self-driving cars and VR/AR (virtual/ augmented reality). MarketsandMarkets expects the OLED display market to reach $44 billion by 2020, growing at a CAGR (compound annual growth rate) of 16% between 2014 and 2020.
Realizing the strong growth opportunity, AMAT has been increasingly investing in display equipment technology. With its advanced technology, the company expects to increase its market share in the display equipment market from 15% at present to 30%–40% by 2019.
Next, we will look at AMAT's Global Services division.