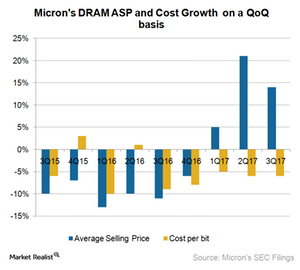 How Micron Is Benefitting from the Favorable DRAM Market Environment
Micron in the DRAM market
Micron Technology (MU) is the third-largest DRAM (dynamic random access memory) manufacturer in the world, after Samsung (SSNLF) and SK Hynix. Micron earns 64% of its total revenues from DRAM.
According to data from DRAMeXchange, Micron increased its DRAM market share from 21% in calendar 1Q17 to 21.6% in 2Q17, taking market share from SK Hynix.
Article continues below advertisement
Micron's fiscal 3Q17 DRAM revenue  
In fiscal 3Q17, Micron's DRAM revenues rose 19.6% sequentially to $3.6 billion, as DRAM ASP (average selling prices) rose 14% and bit shipments rose 5%. This trend is likely to continue in fiscal 4Q17, as industry data point to increasing demand and prices.
Micron's DRAM non-GAAP (generally accepted accounting principles) gross margin increased from 44% in fiscal 2Q17 to 54% in fiscal 3Q17, as the company reduced its cost per bit by 6% and improved its product mix.
DRAM revenue by end-market
Micron's 20% DRAM revenue growth in fiscal 3Q17 was driven by strong demand from servers, partially offset by weak demand in the PC (personal computer) and mobile markets. The demand for specialty DRAM used in networking, graphics, automotive, and other embedded technologies was stable.
According to DRAMeXchange, PC and server DRAM ASP rose over 10% sequentially in calendar 2Q17, whereas mobile DRAM ASP rose less than 5%, as several Chinese (FXI) smartphone vendors reduced their annual shipment targets.
Citi analyst Christopher Danely stated that DRAM contract pricing increased in July 2017, as demand in the PC and server markets, which constitute 50% of the total DRAM demand, has remained strong.
Article continues below advertisement
Baird analyst Tristan Gerra expects the demand for PC and server DRAM to stabilize by calendar 3Q17, but the latest data showed that DRAM inventories at PC and data center OEMs (original equipment manufacturers) are below normal levels so far in calendar 3Q17, given the strong demand for notebooks and the double-digit increase in memory content in data centers. Gerra now expects low inventory levels to continue through calendar 1H18, driving DRAM prices.
Company-specific factors
DRAM prices are likely to increase as Micron's Taiwanese (EWT) DRAM subsidiary, Inotera, which manufactures mobile DRAM for Apple (AAPL), temporarily closed one of its manufacturing facilities due to technical malfunctions in equipment.
DRAMeXchange estimates that the temporary shut down and capacity loss due to the incident should reduce global DRAM production capacity by 5.5% in July 2017. At a time when seasonal demand is picking up, this capacity loss could keep supply tight and DRAM prices high.