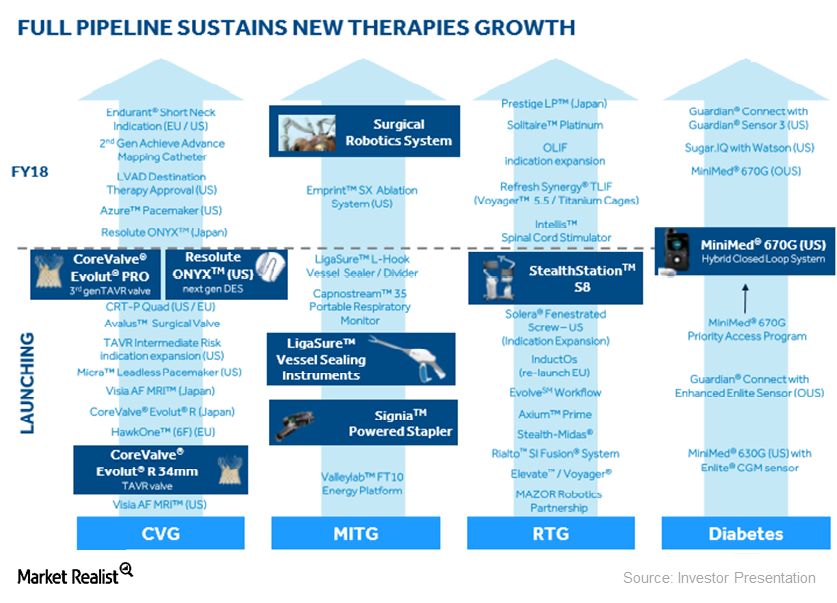 Medtronic's Robust Product Pipeline
Overview
One of Medtronic's (MDT) key growth strategies is therapy innovation. Medtronic directed ~7.4% of its total revenues toward R&D (research and development) investment in fiscal 1Q18. In comparison, peers Becton, Dickinson and Co. (BDX), Stryker (SYK), and Boston Scientific (BSX) invested approximately 6.1%, 6.4%, and 11.0%, respectively, of their total revenuesin R&D in their recently ended quarters.
Medtronic accounts for ~0.52% of the Vanguard S&P 500 ETF (VOO).
Article continues below advertisement
Product pipeline
Under Medtronic's CVG (Cardiac and Vascular Group) business, the company is set to launch its new Evolut PRO TAVR (transcatheter aortic valve replacement) profile. The company received the CE Mark for the device for the treatment of intermediate, high, and extreme risk ssAs (severe symptomatic aortic stenosis) patients in July 2017. The device received FDA approval for its 23 mm, 26 mm, and 29 mm devices in March 2017, which are available in the United States.
On May 1, 2017, Medtronic announced the FDA approval of its Resolute Onyx DES (drug eluting stent) for adult patients suffering from coronary artery disease. The stent has enhanced visibility and better deliverability capabilities. The device was launched in Europe in 2014.
Medtronic is in the early stages of launching several key products—Micra TPS (transcatheter pacing system) and MR (Magnetic Resonance) conditional CRT (Cardiac Resynchronization Therapy) pacemakers—in some of the largest markets in the world.
The Admiral drug-coated balloon launch in Japan, as well as the launch of HVAD destination therapy and the wireless pacemaker family Azure in the United States, should be launched in fiscal 2H18.
Under Medtronic's MITG (Minimally Invasive Therapies Group) business, Medtronic expects to launch a surgical stapling system powered by Signia and to release its surgical robot platform later in fiscal 2018. Under the company's RTG (Restorative Therapies Group) business, Medtronic plans to launch its Solera Voyager 5.5/6.0 fixation system in fiscal 2H18.
Under the Diabetes Group, Medtronic is executing its launch of the 670G hybrid closed loop system. The company is set to launch its standalone CGM (continuous glucose monitoring) system, Guardian Connect, later this year in the US. The system should be combined with the company's sugar IQ app.
Next, let's discuss Medtronic's latest dividend announcement and capital allocation strategy.