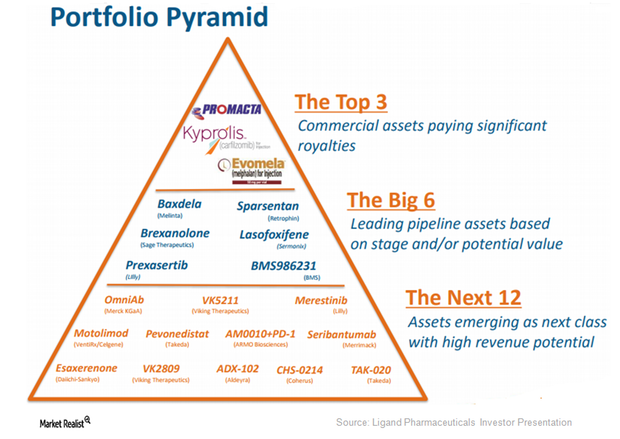 Ligand Pharmaceuticals Focuses on Increasing Returns for Shareholders
Returns for shareholders
To increase its returns for shareholders, Ligand Pharmaceuticals (LGND) has deployed capital for acquiring promising companies and royalties, share buybacks, developing promising technology platforms, and venture capital investment in partners. The company has also benefited from the market expertise and experience obtained from its multiple partnerships to identify promising investment opportunities in the pharmaceutical industry.
Ligand Pharmaceuticals has developed a product portfolio that spans more than 700 patents offering varying degrees of protection to the assets. As partnering companies explore drugs in multiple indications, Ligand Pharmaceuticals expects to witness a steady stream of growing and protected revenues.
Despite the increase in fully funded research programs to more than 155 in 2016, Ligand Pharmaceuticals has maintained its cash operating expenses at a low level. The company also expects to witness an increase in its average royalty rate from ~4.3% in 2016 to 4.5% in 2017.
The chart above gives a snapshot of the existing portfolio as well as Ligand Pharmaceuticals' portfolio expansion plans. Ligand Pharmaceuticals makes up about 2.9% of the PowerShares Dynamic Pharmaceuticals Portfolio ETF (PJP).
Article continues below advertisement
Key milestones anticipated in the next two years
Ligand Pharmaceuticals (LGND) expects to witness the completion of the Phase 2 trial for several investigational drugs by 2019—Glucagon Receptor Antagonist (or GRA) LGD-6972, Selective Androgen Receptor Modulator (SARM) VK5211, and Selective Thyroid Hormone Receptor beta (TR-β) Agonist VK2809.
The company has also projected the start of the Phase 3 trial, or even the initiation of the process for filing a new drug application, for its investigational focal segmental glomerulosclerosis drug, Sparsentan, in the next two years.
Ligand Pharmaceuticals expects the accelerated adoption of Evomela as well as the potential launch of Baxdela and brexanolone in the next 24 months.
In the next article, we will discuss growth prospects for LGND's partnered asset, Promacta, in greater detail.