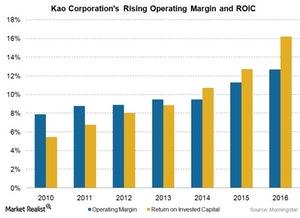 Kao Corporation: What's Sharpening Its Competitive Edge?
By VanEck

Updated
Kao Corp (4452 JP) is Japan's largest household and personal care company. Wide-moat rated Kao gets its moat from two sources according to Morningstar: "intangible assets resulting from its strong brand mix and entrenched retailer relationships, as well as cost advantages, primarily in its domestic market." Kao is a leader in providing food and beverage, sanitary, and oral care consumer goods primarily to Japanese consumers. The company also boasts the top disposable baby diaper brand (Merries) in Japan since 2007. Kao enjoys lower distribution costs given that it delivers products through its subsidiaries and not through wholesalers, as do most other Japanese consumer products, manufacturers. Morningstar also believes that Kao's competitive edge is bolstered by cost advantages it has gained from its origins as a manufacturer of soap, and writes, "Kao's direct operating margin remains above 30%, which is similar to its peers with a cost advantage, such as Unilever."
Article continues below advertisement
Market Realist
Kao Corporation has a competitive edge
Tokyo-based Kao Corporation is a producer and seller of consumer and chemical products in Japan and internationally. The company gained a wide economic rating focusing on two sources—intangible assets and cost advantage. The company became a market leader by providing high-quality, high-value products and brands in the beauty, health, cleanliness, and chemicals space while catering to consumer preferences.
Kao Corporation also utilizes product innovations to stay ahead of its competitors, including Procter & Gamble (PG) and Unilever (UN). The company's focus on product innovation was highlighted when it developed super-concentrated detergents to stay ahead of its local competitor, Lion Corporation.
The Kao way of innovation was also highlighted by its shaped disposable diapers for babies, marketed under the brand name Merries. As a result, it has become the largest branded and packaged goods company in Japan and the second-largest company in the cosmetics category.
To obtain a cost advantage and to capture market share, Kao Corporation open