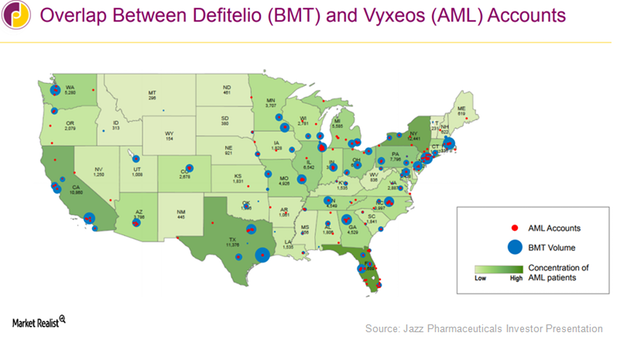 How Jazz Pharmaceuticals Aims to Boost Vyxeos Sales in 2017
Vyxeos market launch
In early 2017, Jazz Pharmaceuticals (JAZZ) expanded its sales force team from 35 to 55 and expanded its field reimbursement teams to support the commercial launch of Vyxeos in the US. The company has also partnered with medical science institutions. The company has plans to cover both adult and pediatric accounts for the drug. Jazz Pharmaceuticals' sales force team is trained to develop awareness in areas such as acute lymphoblastic leukemia (or ALL), bone marrow transplantation (or BMT), and acute myeloid leukemia (or AML).
Article continues below advertisement
Article continues below advertisement
Jazz Pharmaceuticals has projected Vyxeos's full-year 2017 revenues to fall in the range of $10 million to $20 million. If the drug's actual sales manage to surpass these projections in 2017, it could help push up Jazz Pharmaceuticals stock prices as well as those of the Vanguard Mid-Cap ETF (VO). Jazz Pharmaceuticals makes up about 0.24% of VO's total portfolio holdings.
Overlap in BMT and AML accounts
The above diagram shows that there is a strong geographic overlap between BMT and AML accounts. Since sales representatives have already been in those geographies and medical institutions to promote Defitelio, it has been relatively easy for them to create awareness for Vyxeos.
To increase the adoption of Vyxeos, Jazz Pharmaceuticals aims to create greater awareness about therapy-related AML (or t-AML) and AML with myelodysplasia-related changes (or AML-MRC) and ensure access to the drug for all patients throughout their course of therapy, in both inpatient and outpatient settings. The company is also preparing to effectively communicate the benefits of Vyxeos to the payer community and to help patients in need with its patient assistance programs.
Vyxeos is expected to play a major role in making Jazz Pharmaceuticals a prominent AML player, similar to peers such as Celgene (CELG), Agios Pharmaceuticals (AGIO), and Novartis (NVS).