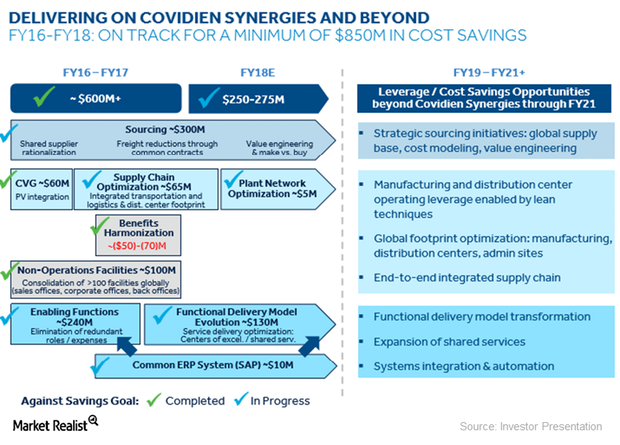 How Medtronic Is Delivering on Its Covidien Synergies
Overview
In January 2015, Medtronic (MDT) acquired Covidien for ~$43 billion in cash and MDT stock in a tax inversion deal. The acquisition has helped Medtronic advance its core growth strategies—therapy innovation, globalization, and economic value creation.
Medtronic committed to delivering ~$850 million of pre-tax cost synergies by the end of fiscal 2018. It is strengthening the company's market position through a more comprehensive product portfolio, which leverages the complementary product portfolio of Covidien and the geographic expansion in new markets. For more specific details about the deal, please read Sizing up Medtronic-Covidien, the Biggest Deal in the Medical Device Industry.
Article continues below advertisement
Covidien synergies
Medtronic (MDT) has been delivering efficiently on its Covidien synergies after the 2015 acquisition. The company has generated around $600 million of cost savings related to Covidien synergies to date. The integration of Covidien and Medtronic, as well as the related restructuring efforts, led to expenditures that resulted in the utilization of cash flows by the company. However, the cash mix increased from 35% before the acquisition to ~55% after the deal was completed.
Medtronic has undertaken a number of integration initiatives, including supply chain optimization, plant network optimization, shared sourcing arrangements, consolidation of non-operations facilities, elimination of redundant roles and expenditures, shared service delivery centers, and common ERP (enterprise resource planning) system.
The integration of Covidien's PV (Peripheral Vascular) segment under Medtronic's CVG (Cardiac and Vascular Group) business is completed and has resulted in ~$60 million of cost synergies. The consolidation of more than 100 non-operations facilities has yielded $100 million of cost synergies.
While the rest of the initiatives are in progress, the company is on track to achieve another $250 million–$275 million of cost synergies throughout fiscal 2018.
The medical device industry in the United States has been witnessing consolidation in the last few years. Other major acquisitions include Abbott Laboratories' (ABT) acquisition of St. Jude Medical and the acquisition of C.R. Bard (BCR) by Becton, Dickinson and Co. (BDX).
For exposure to Medtronic and a healthcare-specific focus, investors can consider the Health Care Select Sector SPDR ETF (XLV). XLV holds approximately 3.6% of its portfolio in MDT.
Next, let's look at Medtronic's recently completed divestiture to Cardinal Health.