How Is Becton Dickinson Progressing with Emerging Market Growth?
Becton Dickinson's (BDX) emerging markets registered a strong double-digit growth of 10.9% in 3Q17.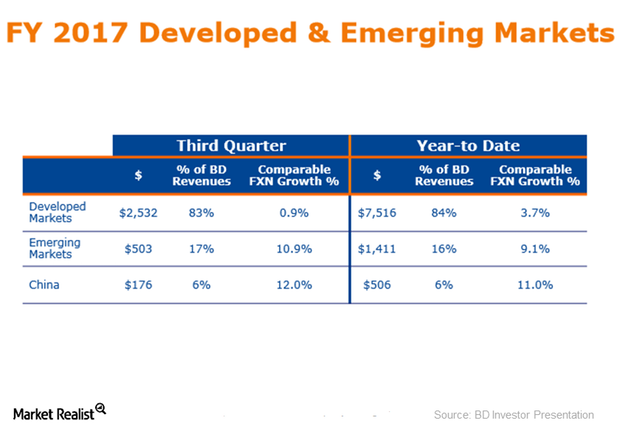 BD's emerging market business profile
Becton Dickinson (or BD) (BDX) has a diverse product portfolio and presence around the globe. It has accelerated its emerging market expansion strategy in recent years. However, the company's international sales contribution fell from 50.0% in 2015 to 45.0% in 2016, which has seen a recovery in recent quarters.
For industry-specific exposure to BD, investors can consider investing in the Health Care Select Sector SPDR ETF (XLV). BD accounts for approximately 1.5% of the total holdings of XLV.
Article continues below advertisement
Article continues below advertisement
Recent performance in emerging markets and growth outlook
Emerging markets registered a strong double-digit growth of 10.9% in 3Q17. The strong Medical segment, as well as Diagnostic segment sales, contributed significantly to this growth. Notably, it was the strongest quarter for the company in terms of emerging market sales growth over the last two years. BD has witnessed emerging market revenue growth of approximately 9.1% year-to-date.
China sales registered a double-digit growth of around 12.0% as the company witnessed a rebound in sales on the capital equipment side. Although the Device and Disposables business continued to witness some weakness, Life Sciences registered a strong performance. Greater Asia also witnessed a double-digit sales growth. Eastern Europe and Latin America sales had high single-digit growth.
BD also saw a stabilization in Saudi Arabia sales due to the easing of the negative impact of the government's expense cut in the region. Africa's headwinds have ceased to be a drag on the company's sales.
Latin America continues to witness stable growth despite all the political instability in the region. However, amid the challenging healthcare spending environment in these regions, sales are expected to continue to grow at a similar pace.
Since emerging markets are recovering from the challenges faced in some of the regions, BD is confident that it can deliver high single-digit growth in emerging markets in fiscal 2017.
Peers Thermo Fisher Scientific (TMO), Stryker (SYK), and Medtronic (MDT) have also been actively pursuing an emerging market expansion strategy for the last few years, citing immense growth opportunities in the region. However, as with BD, they have been experiencing mild headwinds recently.
Next, let's look at the CareFusion synergies realized to date and the progress of the related integration initiatives.