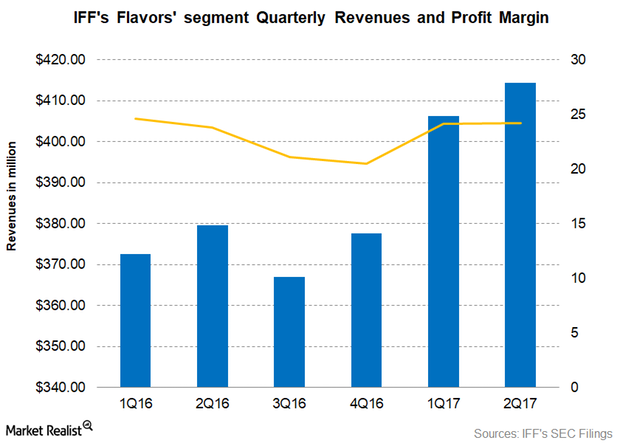 How IFF's Flavors Segment Performed in 2Q17
IFF's Flavors' segment performance in 2Q17
The Flavors segment of International Flavors and Fragrances (IFF) has increased its revenue contribution to IFF's overall revenue. This segment accounted for 49.20% in 2Q17, compared to 47.80% in 2Q16. The segment reported revenue of $414.32 million in 2Q17, an increase of 9.20% on a year-over-year basis. In 2Q16, the segment reported revenue of $379.50 million.
The segment's revenue growth was mainly driven by acquisitions revenue. Revenue growth was seen across all operating regions with the exception of Asia. The acquisitions of David Michael and PowderPure resulted in North American growth of 30%, David Michael sales helped the EMEA region grow 9%. Strong demand in Argentina and Colombia pushed Latin American sales up 11%. However, Asia was the laggard with a decline of 2%.
Article continues below advertisement
Segment's profit and margins
The segment reported a net profit of $100.34 million, an increase of 11.0% on a year-over-year basis. In 2Q16, the segment reported a net profit of $90.30 million. The segment's margins also improved during the quarter to 24.2% in 2Q17, compared to 23.8% in 2Q16—implying an increase of 40 basis points on a year-over-year basis. The increase in the segment's net profit and net profit margin was mainly driven by higher volumes, cost savings, and productivity measures.
Outlook
Acquisition growth is expected to drive the segment's growth. The segment is expected to benefit from the launch of the new company Tastepoint, targeted to tap middle-market customers in North America. As a result of the new company's launch, the segment's selling, general, and administrative expenses might rise, but other productivity measures could offset this impact. So we expect profits and margin growth trends to continue.
The Vanguard Materials ETF (VAW) has invested 1.30% of its portfolio in IFF.
In the next part of this series, we'll look into analysts' latest views on IFF after 2Q17 earnings.