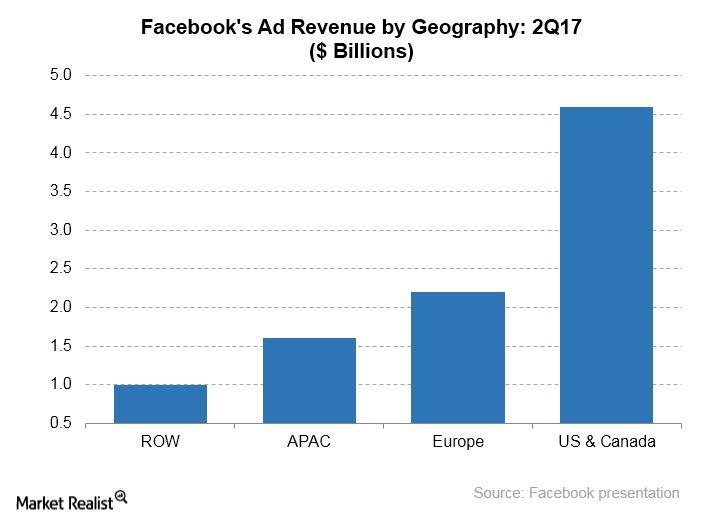 How Facebook's International Business Is Looking
US provides 49% of revenue
The US (SPY) accounts for the greatest portion of Facebook's revenues with more than 49% of overall revenue in the latest quarter coming from the US and Canada. However, closer examination reveals the rising profile of Facebook's international operations as top-line contributors.
In 2Q17, Facebook generated $4.7 billion in revenue outside the US and Canada. The company's overall revenue in the quarter was $9.3 billion, up 45% from a year earlier.
Article continues below advertisement
Europe leads international segment
Facebook reports its international operations in three divisions: Europe (EFA), APAC (Asia-Pacific), and ROW (Rest of World). Europe is the largest revenue contributor among these geographies. Facebook booked $2.2 billion in revenue in Europe in 2Q17, up from less than $1.6 billion a year earlier. APAC revenue was $1.6 billion compared with $1.0 billion a year ago, and ROW revenue was $954 million, up from $614 million a year ago.
Ad sales growth faster in APAC and ROW
Consistent with the US, advertising comprises the bulk of Facebook's international sales. Facebook said its ad business in Europe rose 43% in 2Q17, while APAC and ROW ad revenues rose 54% and 56%, respectively, which shows that Facebook's ad business is growing more rapidly in APAC and ROW compared to the US and Canada, where ad revenue growth was 45%. Overall, Facebook's advertising revenue rose 47%. The above chart shows Facebook's ad revenues by geography.
Payment revenue
Facebook's payments operation is yet to establish roots abroad. The company generated payments and other fees revenue of $157 million in 2Q17 with just $51 million coming from overseas regions.