Despite Currency Headwinds, PVH Delivers Better Growth than Peers
PVH Corporation's (PVH) top line is predicted to grow 4.9% YoY (year-over-year) in 2Q17.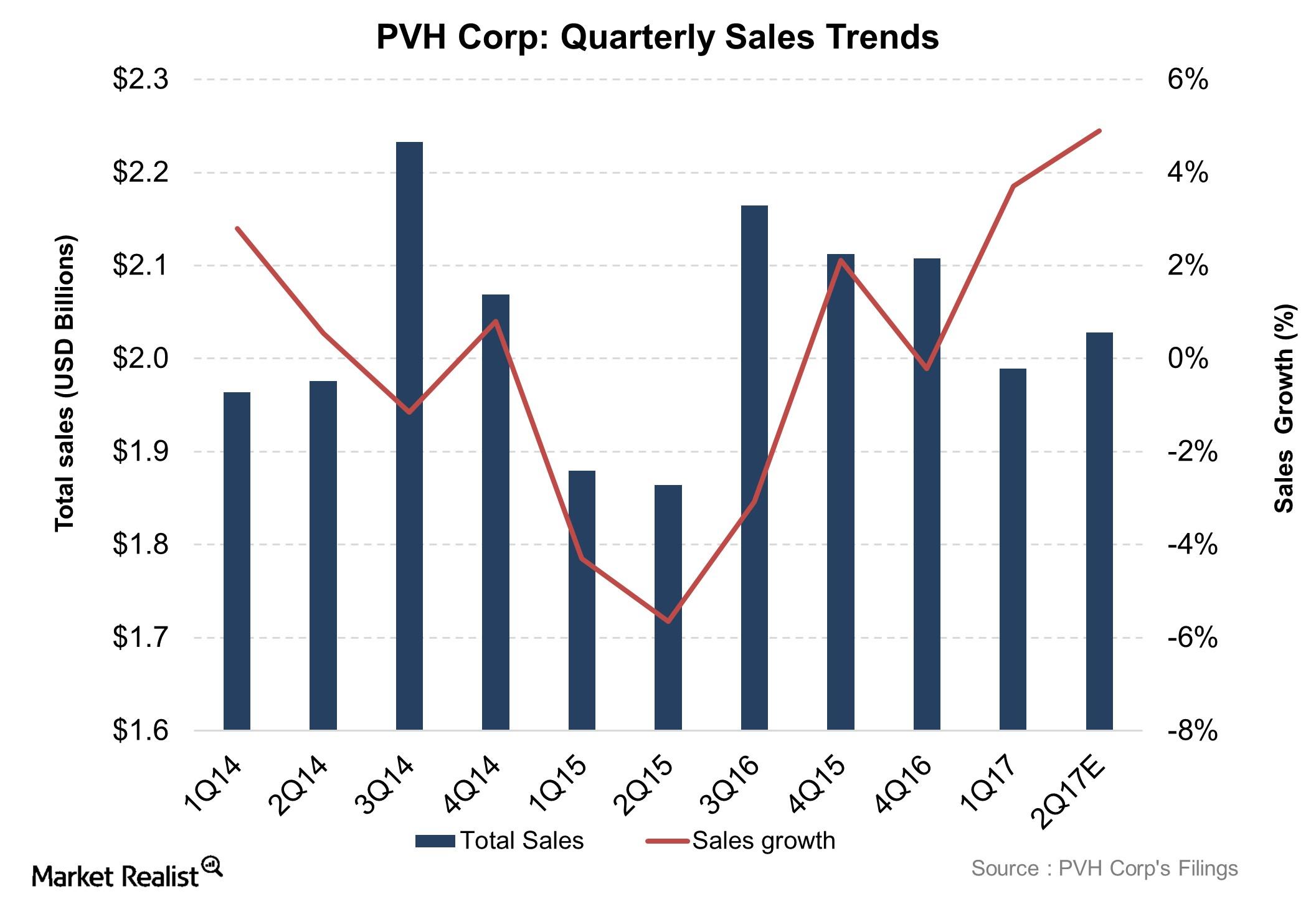 Sales likely to grow ~5% this quarter
According to the average Wall Street estimates, PVH Corporation's (PVH) top line is predicted to grow 4.9% YoY (year-over-year) in 2Q17. PVH will report its results on Tuesday, August 22.
As you can see from the chart below, this would be PVH's best performance for the past two and a half years. The company has been fighting currency headwinds and slowing demand, especially in North America, over the past several quarters.
However, its performance has been better than most other fashion players. PVH's top line grew 3.7% YoY during 1Q17, after growing 2.3% in fiscal 2016.
By comparison, Ralph Lauren (RL) reported a 16% YoY decline in quarterly sales, with North America revenues plummeting 17%. RL reported its results on August 8.
Handbag makers Coach (COH) and Michael Kors (KORS) reported sales falls of 3.6% and 3.7%, respectively, for their last reported quarters.
PVH's performance is particularly impressive as the company is more vulnerable to currency headwinds than its peers. It derives 45% of its revenues from international markets, compared with 34%, 33%, and 39% for Ralph Lauren, Michael Kors, and Coach.
Article continues below advertisement
Article continues below advertisement
Currency headwinds to continue through 2017
PVH's management expects currency exchange to impact its top line throughout the current fiscal year. While it expects revenues to grow 5% in constant currency, currency headwinds are likely to trim 2% from top-line growth.
PVH's full-year operating margin is expected to jump 30–40 basis points on a constant currency basis. This improvement is expected to be reduced to a rise of 10–20 basis points after the impact of currency. Its 2Q17 sales are likely to rise 5%, including 2% negative impact from foreign currency.
ETF investors seeking to add exposure to PVH can consider the PowerShares S&P 500 High Beta Portfolio (SPHB), which invests ~1.2% of its portfolio in PVH.