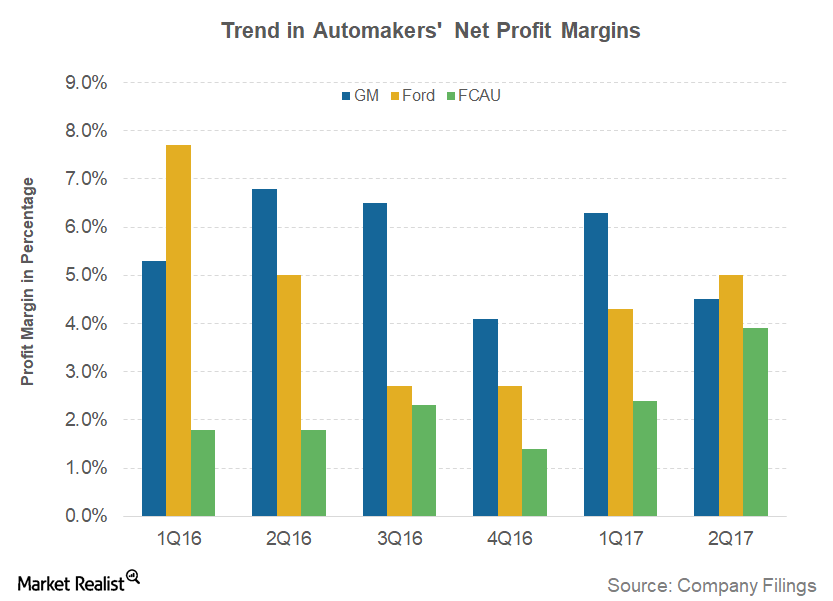 Comparing Mainstream Automakers' 2Q17 Profit Margins
US automakers' 2Q17 profitability
In 2Q17, General Motors' (GM) adjusted EBIT (earnings before interest and taxes) stood at 3.7 billion. The company's EBIT margin was 10.0% for the quarter. The margin was marginally weaker than its adjusted EBIT margin of 10.3% in the same quarter last year. Similarly, General Motors reported an adjusted net profit of $1.7 billion with a net profit margin of 4.5%, which was considerably lower than its adjusted net profit margin of 7.7% in 2Q16.
Unfavourable foreign currency movement hurt General Motors' profits in the second quarter. Currency headwinds stole ~$200 million from the company's 2Q EBIT.
Similarly, Ford (F) reported an operating profit margin of 5.9% in 2Q17—much lower than 7.7% in the same quarter last year. Lower sales along with higher structural and contribution costs hurt Ford's 2Q profitability this year.
Article continues below advertisement
Fiat Chrysler margins rose
In contrast, Fiat Chrysler's (FCAU) profit margins continued to expand on a year-over-year basis for the fifth consecutive quarter in 2Q17. The company's adjusted net profit margin was 3.9% in 2Q17—much better than its net profit margin of just 1.2% a year ago.
Fiat Chrysler still has a bad reputation for having low profit margins in the auto industry. Among its peer group (FXD) including General Motors, Ford, and Volkswagen (VLKAY), Fiat Chrysler's margins are the lowest.
In the last few quarters, Fiat Chrysler's profit margins have been able to impress investors. As a result, its stock has risen ~37.4% in 2017 as of August 17.