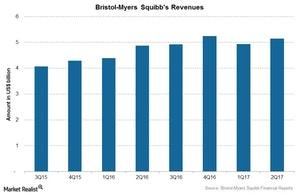 Bristol-Myers Squibb's Revenues in 2Q17
By Mike Benson

Aug. 29 2017, Published 1:13 p.m. ET
Bristol-Myers Squibb's revenues
Bristol-Myers Squibb (BMY) surpassed Wall Street analysts' estimate for 2Q17 revenues, reporting revenues of $5.14 billion compared to the estimate of $5.09 billion.
The above graph shows the revenues for Bristol-Myers Squibb over the last few quarters. The company reported ~45.0% of its total revenues from international sales, making the company largely exposed to currency risk. During 2Q17, its revenues had a 1.0% negative impact from foreign exchange.
Article continues below advertisement
Revenues and EPS 
Bristol-Myers Squibb reported EPS (earnings per share) of $0.74 on revenues of ~$5.14 billion in 2Q17, a 6.0% rise compared to 2Q16. The rise was driven by a 7.0% rise in revenues at constant exchange rates, partially offset by a 1.0% negative impact of foreign exchange.
As we've already seen, the company met Wall Street analysts' estimates for EPS and surpassed the estimates for revenues in 2Q17.
Segment-wise performance
Bristol-Myers Squibb operates as a single segment but classifies its product portfolio into two subcategories: prioritized brands and established brands.
Prioritized brands include Eliquis, Emplicity, Opdivo, Orencia, Sprycel, and Yervoy. These brands reported revenues of $3.9 billion during 2Q17, a rise from 2Q16 revenues following the strong performances for all these drugs.
Established brands include products from the HIV (human immunodeficiency virus), hepatitis C, and hepatitis B portfolios, as well as other established drugs. These drugs reported revenues of $1.2 billion in 2Q17 compared to $1.9 billion 2Q16.
We'll look at the 2Q17 performances of these drugs in the following parts of this series.
To divest the company-specific risks, investors can consider ETFs such as the iShares Global Healthcare (IXJ), which holds 2.2% of its total assets in Bristol-Myers Squibb (BMY). IXJ also holds 4.5% in Pfizer (PFE), 2.5% in Sanofi (SNY), and 2.3% in Celgene (CELG).