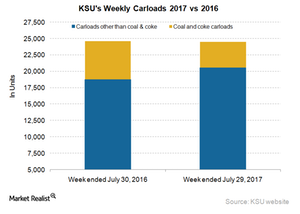 A Deep Dive into Kansas City Southern's Shipments in Week 30
By Samuel Prince

Updated
KSU's carloads in week 30
Kansas City Southern (KSU), the smallest Class I railroad in the US, also operates in Mexico. This US-Mexico commerce on rail registered flat railcars in the week ended July 29, 2017. KSU hauled 24,500 railcars in the same week almost equating carloads moved in the week 30 of 2016.
Kansas City Southern witnessed volume growth in railcars excluding coal and coke in the reported week. Its volumes were ~21,000 railcars compared with 19,000 railcars in the 30th week last year. However, the coal and coke railcars reported a 32.6% fall in volumes to 4,000 carloads. In the past few weeks, KSU's coal and coke carloads have fallen year-over-year. Coal and coke (CNX) carloads accounted for 16% of total railcars, down 7.6% from 23.7% in week 30 of 2016.
Due to KSU's non-cumulative nature of freight data reporting, a comparison with US railroads' volume growth is not possible.
Article continues below advertisement
KSU's intermodal traffic in week 30
In the week ended July 29, 2017, Kansas City Southern's total intermodal volumes jumped 37.7%. This was the best week for KSU's intermodal traffic growth in 2017. The company moved 19,000 plus containers and trailers in week 30 of 2017 compared with ~14,000 units in the 30th week last year.
KSU's container traffic rose 40% to 19,000 in the reported week of 2017. In the same week last year it was ~14,000 containers. In sharp contrast with containers, trailers volume derailed by a whopping 41.5%. The company moved 227 trailers in week 30 of 2017.
In the 30th week, Kansas City Southern registered super solid growth in intermodal volumes, outpacing the rise reported by US and Mexican railroads.