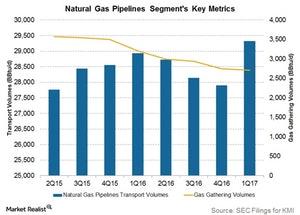 What to Expect from Kinder Morgan's Gas Transport Volumes
Higher transport volumes
Kinder Morgan's (KMI) natural gas transport volumes grew 1.4% YoY (year-over-year) in 1Q17. The growth was driven by throughput on new projects and higher throughput due to deliveries to the Sabine Pass LNG facility, demand from Mexico, and colder weather in California.
The above graph shows Kinder Morgan's Natural Gas Pipelines segment's transport and gathering volumes over the last eight quarters.
Article continues below advertisement
Lower gathering volumes
Kinder Morgan's Natural Gas Pipelines segment's natural gas gathering volumes fell 15% YoY in 1Q17. The fall was primarily driven by lower Eagle Ford volumes. Lower Eagle Ford volumes have impacted the segment's performance over the last few quarters.
Lower volumes do cause concern among investors and get reflected in the segment's EBDA (earnings before depreciation and amortization), which fell 10% YoY in 1Q17.
Kinder Morgan thinks that there are lots of growth opportunities for its natural gas infrastructure. The demand for gas is expected to be driven by greater demand for gas-fired power generation, LNG exports, exports to Mexico, and demand from the petrochemical industry. While the long-term prospects look good, the segment's volumes in 2Q17 might remain pressured in the absence of a near-term catalyst.
In the next part, we'll discuss Kinder Morgan's distributable cash flow and capital expenditure growth.