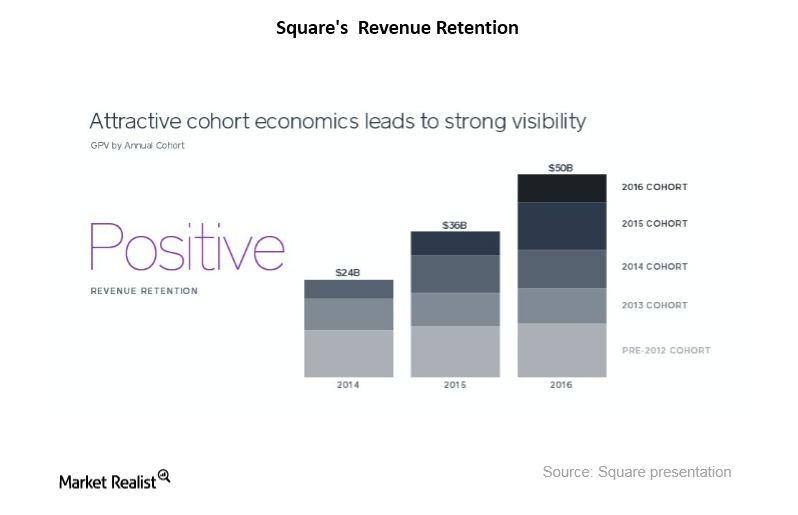 Why Square Has Such Strong Revenue Retention
Square (SQ) boasts perhaps the highest revenue retention rate in its industry.
Square merchants never miss a sale
Square (SQ) boasts perhaps the highest revenue retention rate in its industry. The company cites its revenue retention at 113% at a moment when some players in its industry are booking 10% or 20% attrition. What's Square's secret and is the lofty retention rate sustainable? Square's CFO Sarah Friar tackled this subject at the company's two investor events last month.
According to Friar, the high retention rate is a result of multiple factors. One of them is that Square ensures that its merchant customers never miss a sale, and that has made them loyal to the platform. For example, the company cites that retention among the customer cohort that joined in 2012 has remained strong.
Article continues below advertisement
Article continues below advertisement
Square growing with its customers
The other reason underpinning Square's high retention is that its customers are growing and it's growing with them. For example, merchants who joined the platform while operating only one location have gone on to open more locations. The above chart is a representation of Square's revenue retention for recent years.
New products making the platform sticky
The new products that Square has launched are also helping it to maintain a tight grip on its customers. Besides processing payments, Square has introduced new solutions around business credit, invoicing, and employee and customer management.
Five years attest the model is working
As to whether Square's lofty revenue retention rate is sustainable, Friar noted that sustainability of the growth model has proven itself over the last five years.
However, investors will still closely watch Square's retention figures as competition heats up in the company's industry. PayPal (PYPL), Amazon (AMZN), Apple (AAPL), and Alibaba (BABA) are also vying for the attention of merchants.