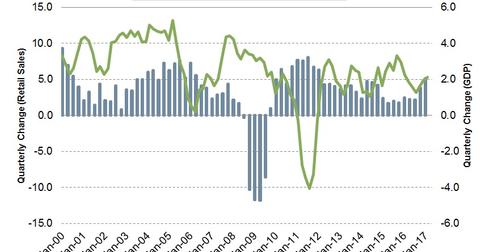 Why Retail Sales Are an Important Indicator of Economic Growth
By Ricky Cove

Jul. 13 2017, Published 9:19 p.m. ET
Retail sales
The US Census Bureau releases retail sales on a monthly basis. This release measures the total value of sales in the United States at the retail level. Trends in retail sales data can give investors an idea about trends in consumer spending, which forms a large part of the overall economic activity in the country. This series covers sales at retail firms with one or more establishments that sell merchandise and related services to customers.
Article continues below advertisement
Retail sales as an indicator for economic growth
Historically, retail sales have been an indication of economic activity in an economy. In the graph above, we have only considered US markets, but the relationship between retail sales and economic growth remains the same in most economies. This relationship is distorted during times of recession as seen by the drop in retail sales between 2008 and 2011. Investors use this information to understand the trends in consumer spending, and this data is also used to estimate the potential earnings of retail stores. Stores like Walmart (WMT), Costco (COST), Target (TGT), Home Depot (HD), and even online retailers like Amazon are included in the sample for this data collection. Apart from these stores, gas stations and auto sales (CARZ) are also included in retail sales data the US Census Bureau releases.
Series overview
In this series, we'll explore the trends in consumer spending in recent months and try to shed some light on the retail sales data that will be released on July 14.