Why PayPal Favors a 2-Sided Network
PayPal (PYPL) processed $99.3 billion in payment volumes in 1Q17, up 23% year-over-year.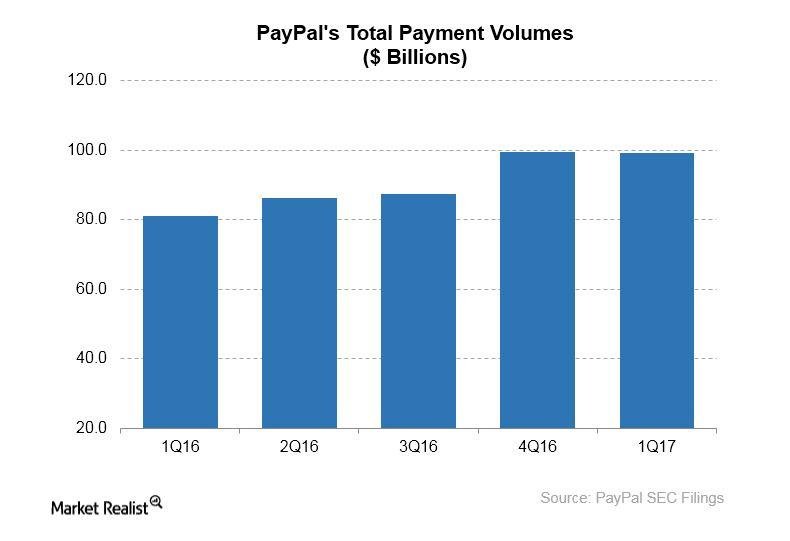 16 million merchants
PayPal (PYPL) is pursuing a two-sided network, which means serving consumers and merchants at the same time. Speaking at the Sanford C. Bernstein Strategic Decision Conference in June, PayPal's president and CEO, Daniel Schulman, explained why the company favors the two-sided network business model.
Schulman pointed out that the PayPal platform has more than 200 million regular users. Of those users, he noted that about 16 million are merchants, and the rest are consumers.
Article continues below advertisement
Article continues below advertisement
A competitive advantage
Schulman views PayPal's (PYPL) two-sided network approach as a competitive advantage. Running a two-sided network allows PayPal to control its end-to-end proposition. This level of control would allow PayPal to fend off competition from rivals such as Apple's (AAPL) Apple Pay, which mainly focus on providing a user interface.
Easy global expansion
Schulman explained that the two-sided network model also simplifies PayPal's global rollout. Because it controls the end-to-end proposition, Schulman said PayPal could roll out a new feature or service on a global scale without requiring merchants to write any code.
PayPal's two-sided network is the reason behind the early success of One Touch, the company's mobile feature that eliminates the need for consumers to log in every time they want to complete a purchase.
Customer retention tool
PayPal (PYPL) views its two-sided network model as vital in supporting customer retention. As more consumers and merchants join the platform, it could become difficult for users to defect.
PayPal is working with Visa (V) and Mastercard (MA) to simplify transactions for its users. These kinds of arrangements have the potential to boost transaction frequency and reduce customer churn as PayPal fights off competition from Square (SQ). PayPal processed $99.3 billion in payment volumes in 1Q17, up 23% year-over-year, as shown in the chart above.