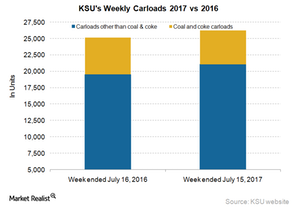 Why Kansas City Southern's Freight Traffic Just Rose
KSU's railcars in week 28
Kansas City Southern (KSU) is the only US Class I railroad operating in Mexico through a wholly owned subsidiary. This US-Mexico railroad reported a YoY (year-over-year) 4.4% rise in railcars in the week ended July 15, 2017. The company hauled more than 26,000 railcars, compared with ~25,000 railcars in the same week one year ago.
While KSU's railcars other than coal (ARLP) and coke grew last week, its coal and coke railcars shrank. Excluding coal and coke, railcars totaled 21,000 in the 28th week of 2017—up 8% from the 19,500 railcars we saw in the comparable week last year. Over the past few weeks, KSU's coal and coke carloads have been falling YoY. Coal and coke carloads, which accounted for ~20% of total railcars, fell 8.2% YoY last week.
Unlike other US Class I railroads, KSU doesn't report cumulative volumes week by week, and so the comparison with US railroads' volume growth is not possible for Kansas City Southern, due to the difficulties of data compilation.
Article continues below advertisement
KSU's intermodal volumes
In the week ended July 15, 2017, KSU's overall intermodal traffic expanded by 5.1%. That week, the company moved ~19,000 containers and trailers, compared with ~18,000 units in the same week last year. Trailers, which accounted for less than 2% of KSU's intermodal volumes, registered a growth of 17.6%. Container volumes rose 4.9% to 18,500, compared with ~18,000 containers in the 28th week of 2016.
KSU's railcar volume growth was much higher than the rise shown by US railroads overall, while for intermodal traffic, the rise was slightly lower than the gains reported by US railroads overall.
Notably, investors interested in exposure to transport and logistics stocks can consider the Guggenheim S&P 500 Equal Weight ETF (RSP), which includes all US-originated Class I railroads (UNP) in its holdings.