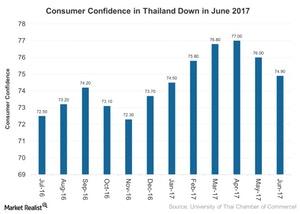 Why Consumer Confidence in Thailand Is Low
By Mary Sadler

Jul. 17 2017, Updated 10:42 a.m. ET
Consumer confidence in Thailand
Consumer confidence in Thailand (THD) seems to be in a downtrend, as it continued to fall for two consecutive months as of June 2017. The poor farm product prices and concerns related to slower-than-expected economic recovery are affecting the consumer sentiment in June 2017, according to the University of the Thai Chamber of Commerce (or UTCC). Consumer confidence dropped to 74.9 in June 2017 as compared to 76.0 in May 2017. A confidence index above 100 indicates an improving outlook, whereas below 100 means a deteriorating outlook.
Article continues below advertisement
Political tensions
Political tensions due to potential regional conflict and separatist violence after King Vajiralongkorn's rise to the Chakri Throne are also expected to create uncertainty in the country. Plus, the blast in May 2017 in Bangkok increased tension in the region, which affected consumer sentiment. Let's look at the consumer confidence in Thailand over the last year in the above chart.
Consumer confidence in June 2017
Consumer confidence in Thailand (EEMA) in June 2017 stood at the lowest level since January 2017, mainly due to slower economic recovery and lower commodity prices. However, it's expected to recover in 2H17 with increased government spending and investments in infrastructure projects.
Sauwanee Thairungroj, the president of the University of the Thai Chamber of Commerce, stated that the drop in the confidence levels in June 2017 was mainly due to concerns about the Thai economy remaining fragile. The poor farm prices for items like rubber, tapioca, maize, palm oil, and pineapples hampered the income expectations of the people who depend on agricultural incomes. However, the farm product prices are expected to recover in 2H17, which should help increase purchasing power in Thailand (ASEA). The better exports and solid tourism industry should also support economic growth in 2017, according to Sauwanee.
Strong fundamentals
Despite the decline in the confidence level in the last two months, the economic prospects of Thailand look positive amid the improving exports and a gradual rise in the domestic demand in 2017. However, protectionist policies adopted by developed nations like the US (SPY) and EU (VGK) are likely to impact economic activity in Thailand.
Let's look at manufacturing activity in Thailand in our next article.