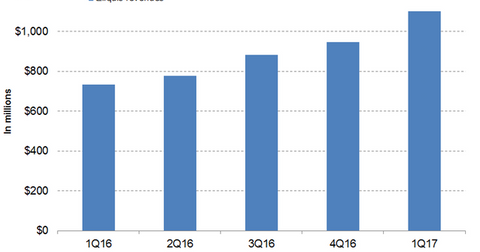 Why Bristol-Myers Squibb's Empliciti Matters in 2017
By Daniel Collins

Updated
Empliciti revenue trends
In 2016, Bristol-Myers Squibb's (BMY) Empliciti reported revenues of ~$133 million. The US accounted for ~89% of Empliciti's total revenues. In 1Q17, Empliciti generated revenues of ~$53 million, which represents a ~89% YoY (year-over-year) rise and a 13% sequential rise. The drug's sales in the US totaled ~$36 million.
In November 2015, the FDA (US Food and Drug Administration) approved Empliciti in combination with Revlimid and dexamethasone for the treatment of MM (multiple myeloma) patients who have received one to three prior therapies. Since its approval in November 2015, the drug has witnessed a double-digit growth rate sequentially.
Article continues below advertisement
About Empliciti
Empliciti (elotuzumab) is an SLAMF7-directed immunostimulatory monoclonal antibody indicated for the treatment of patients with MM who have received one to three previous therapies. Empliciti is administered in combination with lenalidomide (Revlimid) and dexamethasone. The drug activates natural killer cells to combat MM.
In June 2017, BMY presented the four-year follow-up data from its Eloquent-2 phase-3 trial, which evaluated the efficacy of Empliciti in combination with lenalidomide-dexamethasone, compared with lenalidomide-dexamethasone alone. After four years, Empliciti and lenalidomide-dexamethasone combination therapy demonstrated a continued reduction with the risk of disease progression or death of 29%.
The study demonstrated a sustained improvement of 50% with a PFS (progression-free survival) rate of 21% in patients receiving combination therapy, compared with 14% in patients receiving lenalidomide therapy alone. The study also demonstrated an ORR (overall response rate) of 79%, or 235 of 321 patients, compared with 66%, or 214 of 325 of patients, receiving lenalidomide alone. The data proves the efficacy of Empliciti over the long-term.
Still, BMY's Empliciti faces stiff competition from Celgene's (CELG) Pomalyst, Amgen's (AMGN) Kyprolis, and Johnson & Johnson's (JNJ) Darzalex. The Vanguard Health Care ETF (VHT) has ~2.7% of its total portfolio holdings in BMY.