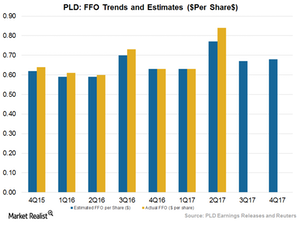 Where Does Prologis Stand after 2Q Earnings?
Upbeat 2Q17 backed by rent growth
Prologis (PLD) reported core funds from operation (or FFO) of $0.84 per share in 2Q17, which surpassed Wall Street's estimates of $0.77 by a remarkable 9.1%. Adjusted FFO also soared 40% over the year-ago results of $0.60 per share helped by rent growth, higher occupancy, and upside margins during the quarter.
Although the company posted slightly lower year-over-year earnings per share of $0.50 compared to $0.52 reported in 2Q16, the EPS during the quarter surpassed Wall Street's estimates of $0.45 by a remarkable 10.6%.
Higher-than-expected net promote income and same-store net operating income growth led to an upswing in profit growth during the quarter.
Article continues below advertisement
Prologis posted rental revenue of $576.4 million, marginally missing Wall Street's estimates by 1.1%. However, rental revenue came in higher than $546.1 million reported a year ago. Total revenue of $766.2 million also compared favorably with $602.2 million reported a year ago. The top line growth came from an increase of $0.13 million in its mark-to-market portfolio and higher-than-expected rent growth during the quarter.
Management comments
In its press release on July 18, 2017, Prologis chair and CEO, Hamid Moghadam, stated: "Our second quarter results were excellent and reflect record rent increases and higher earnings from our strategic capital business."
Moghadam added: "Market conditions continue to be healthy. On the margin, we are now even more positive as we see increased activity from our customers and a greater willingness to compete and pay for quality locations. Market rent growth surprised us to the upside, and the mark-to-market of our portfolio increased to 13 percent globally, which positions us for strong operating performance for the next several years."
Enhanced guidance
Prologis enhanced its net earnings and core FFO guidance for fiscal 2017 in order to reflect higher-than-expected net promote income and increased operational efficiency. The company now expects net earnings to be in the range of $2.76 to $2.84 compared to a range of $1.70 to $1.80 expected previously.
On the other hand, Prologis now expects core FFO to be in the range of $2.78 to $2.82 compared to the previously expected range of $2.72 to $2.78 per share.
Other peers in the same industry like Duke Realty (DRE), Kilroy Realty (KRC), and Boston Properties (BXP) are expected to report adjusted FFOs of $0.31, $0.87, and $1.61, respectively.
Prologis and the peers mentioned above together constitute 14.1% of the iShares Cohen & Steers REIT ETF (ICF). ICF's weighted market cap has wide product diversity, which cushions investors against macro headwinds.