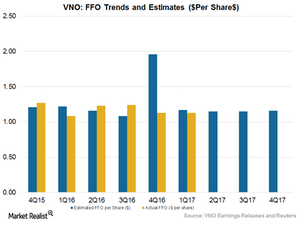 What's in Store for Vornado's 2Q17 Earnings?
2Q17 performance
Vornado Realty Trust (VNO) is scheduled to report its 2Q17 earnings on July 31, 2017. Analysts expect the company to report an adjusted funds from operation (or FFO) of $1.15, 9% lower than in the corresponding quarter of last year.
The lower year-over-year FFO for 2Q17 reflects the company's probable earnings dilution in the coming months. The company has embarked on its strategy of shedding its non-performing assets to concentrate more on its core business. Though the initiative is expected to bring profit in the future, the disposition of properties may cause some near-term dilution of earnings.
Article continues below advertisement
Macro factors are the key to growth
The REIT (real estate investment trust) sector seems to be in the doldrums, as the retail sector is reeling under the pressure of online shopping. More and more consumers are opting for shopping online, as they prefer the convenience of shopping anytime and from anywhere. This trend has resulted in declining sales among retailers, and malls are experiencing declining traffic. After witnessing lower sales for several quarters, US retailers have started to close down their stores. Thus the retail malls are left with vacant spaces, which are compelling them to lease out these places for other non-profitable uses. The malls that Vornado owns are expected to experience lower revenues in 2Q17 as well.
On the other hand, the residential REITs have witnessed a decent year with record rent growth. Although the rent growth moderated in 2016, there is still excess demand for rented houses in high-demand cities. The residential REITs are witnessing high occupancy levels. Thus, VNO's residential properties are expected to witness rising profit in 2Q17 as well.
A strong start to 2017
Vornado Realty Trust reported an adjusted FFO of $1.13 for 1Q17, up 7.6% from the year-ago level. The higher profit was driven by lower cost of operations and higher revenues. Results, however, missed analysts' estimates by 3.7%. However, its FFO came in 7.6% higher than in 1Q16.
Other peers in the same industry like AvalonBay Communities (AVB), Boston Properties (BXP), and Equity Residential (EQR) are expected to report FFOs of $2.11, $1.61, and $0.76, respectively.
Vornado and its residential REIT peers together constitute 12.4% of the iShares Cohen & Steers REIT ETF (ICF). ICF's wide product diversity help cushion investors against macro headwinds.