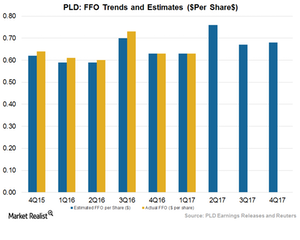 What's in Store for Prologis in 2Q17?
2Q17 performance
Prologis (PLD) is scheduled to report its fiscal 2Q17 earnings on July 18, 2017. Analysts expect it to report adjusted FFO (funds from operations) per diluted share of $0.76 for 2Q17 and $2.73 for fiscal 2017.
The 27.3% higher FFO for 2Q17 reflects Prologis's higher revenue and lower cost of operations. The company is managing to retain its occupancy level at the desired position due to strategically placed properties. Recently, the demographic location of properties has been very important to the sector. Prologis's properties are located in key areas that help it take advantage of the secular shift of preference. The properties are located in cities that have a proximity to the busiest business locations. These areas also have adequate access to airports, seaports, and highways.
Article continues below advertisement
Macro factors are the key to growth
President Trump's pro-American policy that has resulted in a boom in industrial activity, a growing economy, and a higher interest rate is expected to drive a higher momentum for Prologis's business. Also, since retailers are increasingly resorting to giving benefits such as same-day and door-to-door deliveries, Prologis's logistics business is expected to see strong growth in the second quarter.
A strong start to 2017
Prologis started 2017 on a strong note. It reported FFO of $0.63, which is $0.02 higher than management's expectations. Although results came in below expectations by a marginal 0.30%, it surpassed the year-ago results by 3.2%. The upswing in profits was the result of a surge in the housing, construction, and e-commerce industries, which drove demand for the company's facilities.
Prologis raised fiscal 2017 guidance
Prologis is confident that its business momentum will continue in the upcoming months. The commercial REIT raised its 2017 guidance during the first quarter earnings conference call. It now expects its adjusted FFO to be $0.10 higher, in the range of $2.72–$2.78 per share. That's higher than the previously expected range of $2.60–$2.70. Higher-than-expected operating results, healthy operating fundamentals, and higher deployment have prompted the company to raise its 2017 guidance.
For 2016, Prologis's FFO was $2.57 per share. Other peers in the same industry such as Duke Realty (DRE), Kilroy Realty (KRC), and Boston Properties (BXP) reported FFOs of $1.20, $3.46, and $6.03, respectively.
Prologis and its above-mentioned peers together constitute 14.1% of the iShares Cohen & Steers REIT (ICF). ICF's wide product diversity gives investors a cushion against macro headwinds.