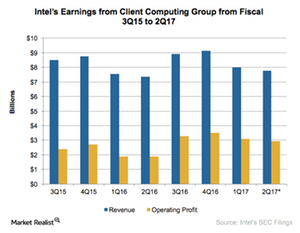 What's Going on with Intel's Client Computing Group?
Intel's Client Computing Group
Intel (INTC) is currently going through a phase of slow growth, which is threatening its top position in the semiconductor industry. However, this phase is expected to be short as the company transitions away from the PC (personal computer) market toward fast-growing markets such as memory, 5G (fifth-generation) technology, and autonomous vehicles.
Intel's CCG (Client Computing Group) offers PC processors and mobile modems. At the Bank of America Merrill Lynch Global Technology Conference, Intel's CEO, Brian Krzanich, stated that global annual PC shipments had fallen from a peak of 350 million units to 250 million units.
Despite this fall, Intel has continued to keep its CCG segment profitable by segmenting its gamer products, 2-in-1 devices, and set-top boxes. This move has helped the company to increase its client ASP (average selling price) and its CCG revenue.
Article continues below advertisement
CCG earnings
In 1Q17, the CCG segment's revenue rose 6% YoY (year-over-year) to $8 billion as a 4% YoY fall in its unit sales was more than offset by a 7% YoY rise in its client ASP. Within the CCG segment, the notebook business was stronger than the desktop business. Notebook unit sales and ASP rose 1% and 7% YoY, respectively, whereas desktop PC unit sales and ASP fell 7% and rose 2% YoY, respectively.
Intel also reduced its R&D (research and development) and selling expenses in the CCG segment. Lower expenses and higher revenue increased the segment's operating profit by 60% YoY to $3 billion in 1Q17. While Intel decreased its revenue contribution to CCG from 65% in 2012 to 55% in 2016, it still earns more than 80% of its profits from this group. Any significant fall in this segment will likely have a material impact on Intel's earnings.
Intel expects global PC unit shipments to continue to fall in the coming years. It also expects its client ASP to fall for the remainder of 2017 as competition intensifies in the PC space.
Intel's PC innovation slows
The PC segment forms the basis of Intel's core architecture. However, its architectural innovation and process node improvement have slowed over the past few years as it's reduced its R&D efforts in the space.
Over the past four years, Intel has launched four architectures on the same basic node. It's launched Broadwell and Skylake on the 14 nm (nanometer) node and Kaby Lake on the 14 nm+ node. Now it's launching Coffee Lake on the 14 nm++ node.
Such architectural stagnation has led the way for competitors such as Advanced Micro Devices (AMD) and Qualcomm (QCOM) to tap the PC market and reduce their technology gaps with Intel.
Next, we'll look at Intel's strategy for tackling this competition.