What Wall Street Thinks of Under Armour
Under Armour has a 2.8 rating on a scale where one is a "strong buy" and five is a "strong sell."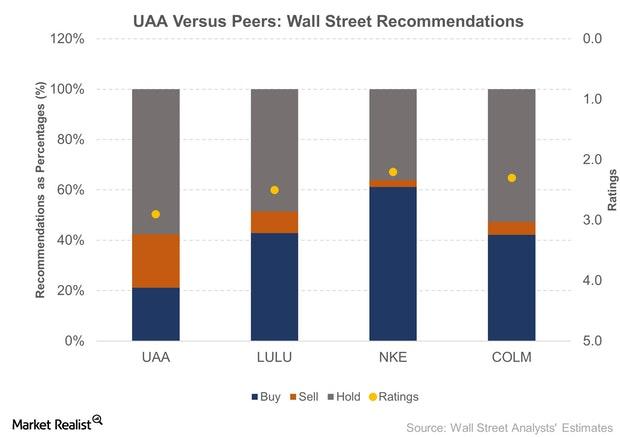 Comparing Wall Street's ratings of Under Armour with peers
A total of 33 Wall Street analysts cover Under Armour (UAA). The stock has a 2.8 rating on a scale where one is a "strong buy" and five is a "strong sell." The company's ratings have deteriorated over the last six to seven months. It was rated a 2.3 at the beginning of the year.
The fall in ratings reflects continuous analyst downgrades. Currently, 21% of analysts rate the company a "buy." At the beginning of the year, 47% of analysts suggested buying the stock.
Article continues below advertisement
Article continues below advertisement
UAA has the highest percentage of "sell" ratings among the sportswear peer group at 21%. In comparison, Nike (NKE), Lululemon Athletica (LULU), and Columbia Sportswear (COLM) have been recommended as a "sell" by 3%, 9%, and 5% of analysts covering the stocks, respectively. These companies have a better rating than UAA. While LULU is rated a 2.5, NKE and COLM are rated 2.2 and 2.3, respectively.
Recent analyst updates
Deutsche Bank downgraded Under Armour on July 25 from "hold" to "sell." Analyst Paul Trussell cited "a difficult and promotional selling environment along with segmentation challenges" as the key reasons for the downgrade.
He also noted that the company's long-term growth outlook looked tapered by "ongoing changes in consumer preference and increased innovation from larger peers."
Deutsche Bank has set a price target of $17.00 on UAA, which represents a 13% downside potential from the current stock price of $19.7. In comparison, Wall Street has an average target price of $21.57 on UAA, reflecting an upside of 10% over the next 12 months.
ETF investors seeking to add exposure to Under Armour can consider the PowerShares S&P 500 High Beta Portfolio (SPHB), which invests 0.83% of its portfolio in the company.