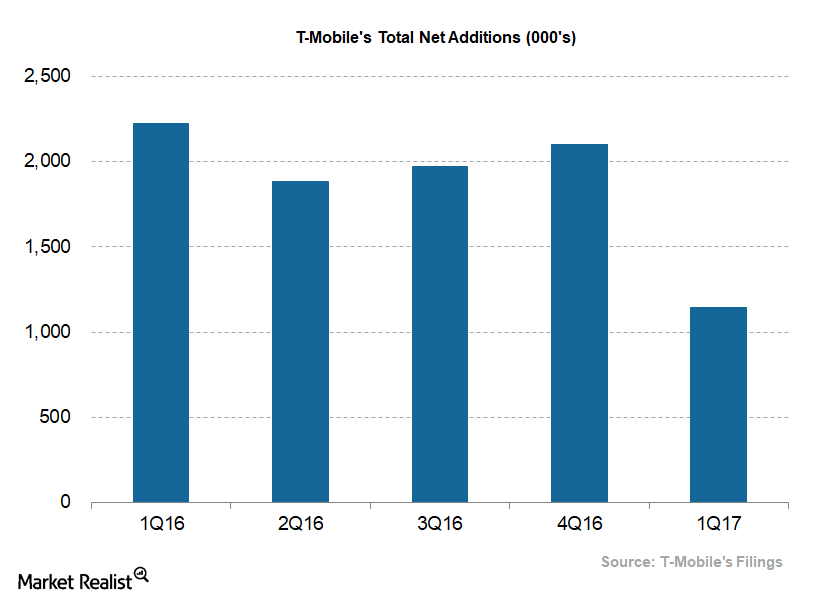 What Are the 2 Major Growth Opportunities for T-Mobile?
T-Mobile's growth opportunities
T-Mobile (TMUS) is the fastest-growing postpaid wireless carrier in the United States (SPY). It ended the first quarter of 2017 with approximately 72.6 million subscribers, a growth of ~1.1 million compared to the previous quarter. However, it still has a long way to go to match the extensive customer bases of Verizon (VZ) and AT&T (T).
During the recent JPMorgan Technology, Media & Telecom Conference held on May 22, 2017, Braxton Carter, T-Mobile's executive vice president and chief financial officer, spoke about the two major growth opportunities for T-Mobile that could allow the company to continue adding millions of new customers. First, T-Mobile is still increasing its distribution footprint to have a nationwide network coverage. Second, its improved network coverage will provide significant opportunity to penetrate the enterprise market.
Article continues below advertisement
Entering the enterprise market
Carter said that T-Mobile estimates that it only has a 5.0% market share in the enterprise market, which is a big opportunity considering that its network coverage is 99.7% of Verizon's footprint. The company also saw an increased flow in 2017, with enterprise flow expanding 200% in 1Q17 compared to 4Q16, driven by network improvement.