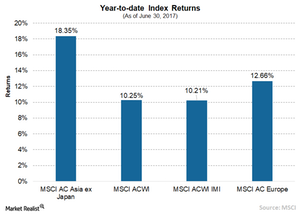 Is It Time to Focus on Asian Markets?
By Matthews Asia

Jul. 24 2017, Updated 11:36 a.m. ET
Matthews Asia
The Opportunity in Asia
Asia's markets are off to a strong start this year. As of May 17, the MSCI Asia exJapan Index is up by 19.46% and Japan, though it has lagged behind, also has had a positive start to the year. As I meet with investors these days, common questions are: "Have we missed the rally?" and (for those that haven't missed the rally) "Is it time to take some profits?" I always feel a little uncomfortable trying to answer these questions. I don't have a crystal ball for the markets, and trying to time sentiment is always tricky. But let me enumerate some of the risks and opportunities in the markets at the moment that might help investors make up their own minds.
Article continues below advertisement
Market Realist
Asian nations are experiencing gradual economic recovery
Asian nations (AAXJ) are experiencing a continuation of the economic recovery that has been going on for a couple of quarters now. China's manufacturing PMI (purchasing managers' index) rose to 51.7 in June, compared with 51.2 in May. This was the 11th-straight month of expansion in China's PMI—a sign of economic stabilization.
The IMF (International Monetary Fund) expects China's (FXI) GDP to grow 6.7% this year—higher than the previous estimate of 6.6%—while India is expected to grow 7.2%. Together with India (INDA) and Indonesia, China continues to be Asia's growth drivers.
Meanwhile, the Japanese economy remains one of the weakest in the region. Japan's (EWJ) (DXJ) GDP grew by a mere 1.0% in 1Q17—much lower than the initial estimate of 2.2%. Headwinds including demographic challenges, persistently lower inflation, and slow wage growth will likely ensure a much slower economic recovery in Japan.
Markets on a roll
At the same time, improving economies have boosted stock markets in the region. The MSCI All Country Asia ex-Japan Index, which tracks large- and mid-cap companies across two developed markets (excluding Japan) and eight emerging markets in Asia, has risen 18.4% year-to-date. The index covers ~85% of the market capitalization in each country.
By comparison, the MSCI ACWI (All Country World Index) gained 10.3%, while the MSCI ACWI IMI (Investable Market Index), which tracks companies across 23 developed markets and 23 emerging markets, has risen 10.2% during the same period.