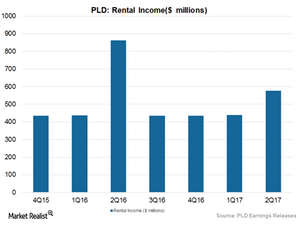 Prologis's Strong 2Q17 Results Backed by Rent Growth
Robust 2Q17 growth driven by rent growth
Prologis (PLD) reported better-than-expected 2Q17 top-line and bottom-line results. The upbeat results during the quarter were possible due to higher rent growth as well as higher net promote income during the period.
REITs have experienced a record high level of rent growth for the past few years. However, owners ramped up their supply during 2016, which resulted in moderation of rent growth since the second half of 2016.
However, Prologis has seen a modest rent growth trend. The company's rent growth during 2Q17 exceeded management's expectations backed by higher rent growth in the US. Prologis reported a net effective rent change of 24% during 2Q17, higher than the 17.8% reported a year ago.
Article continues below advertisement
Rent growth expected to moderate
Management expects the rent growth rate to moderate as supply increases. Further, the best coastal markets are performing better, and there is a rising difference in the performance of these markets compared to other areas.
However, the company's guidance has proven to be too conservative, as there is a record low level of occupancy in the company's properties. Moreover, there is an increased demand for the company's quality locations, which is evident from the fact that while Prologis expected market rent growth of 4% in the US for fiscal 2017, it's already on pace to attain 8%. This robust growth was helped by rent growth in high barrier coastal markets.
Prologis has consistently strategically repositioned its properties to Class A cities where there is high demand for logistics. These cities are located in the coastal regions and are located in proximity to busy business locations. Prologis has a dominant share in these locations.
Wall Street expects competitors Duke Realty (DRE), Kilroy Realty (KRC), and Boston Properties (BXP) to report revenue of $192.9 million, $157.7 million, and $639.45 million, respectively, in 2Q17.
Prologis and its competitors together constitute 14.1% of the iShares Cohen & Steers REIT ETF (ICF). ICF's weighted market cap has wide product diversity that cushions against macro headwinds.