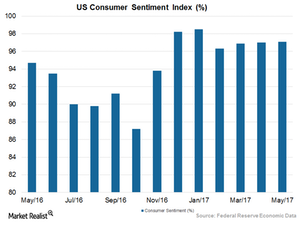 Prologis's Main Revenue Drivers in 2Q17
Higher revenue growth in 2Q17
Prologis (PLD) is expected to see higher revenue growth as well as higher margins for 2Q17. Although margins may be slightly lower sequentially, mainly due to the higher cost of debt, it's expected to take off year-over-year.
The Fed has hiked interest rates three times in the last seven months, and market speculators expect another rate hike in 4Q17. The Fed is trying to reach its targeted 2.0% interest rate amid a growing economy and lower unemployment.
Article continues below advertisement
Growing economy: A boon for Prologis
The economy is buzzing in the new pro-American wave under President Donald Trump. Consumer sentiment has risen in the first half of 2017. Lower gas prices, slow but steady improvement in job data, and an increase in gross domestic product have led to higher optimism among consumers followed by a higher consumer sentiment index.
That has resulted in more shopping due to higher disposable income in consumers' pockets. Also, in order to compete with the growing popularity of online shopping, retailers are concentrating more on supply chain consolidations as well as special services for their customers such as same-day delivery. That's expected to churn higher demand for distribution and warehousing facilities in the coming quarter.
Europe is expected to drive revenue growth in 2Q17
In 1Q17, Prologis benefited significantly from Europe since the market there continues to develop with favorable supply-demand conditions as well as record-low vacancies, especially in the United Kingdom, Germany, and the Netherlands.
Prologis's close competitors, Kilroy Realty (KRC) and Boston Properties (BXP), are expected to report revenue growth of 7.5% and 2.5%, respectively. However, Duke Realty (DRE) is expected to report a fall in revenue of 3.8%.
Prologis and its peers together constitute 14.1% of the iShares Cohen & Steers REIT (ICF). ICF's wide product diversity gives investors a cushion against macro headwinds.