Operating Loss Could Be in the Cards for Under Armour in 2Q17
Under Armour is expected to report a loss of six cents per share in 2Q17, which follows a loss per share of one cent during the first quarter.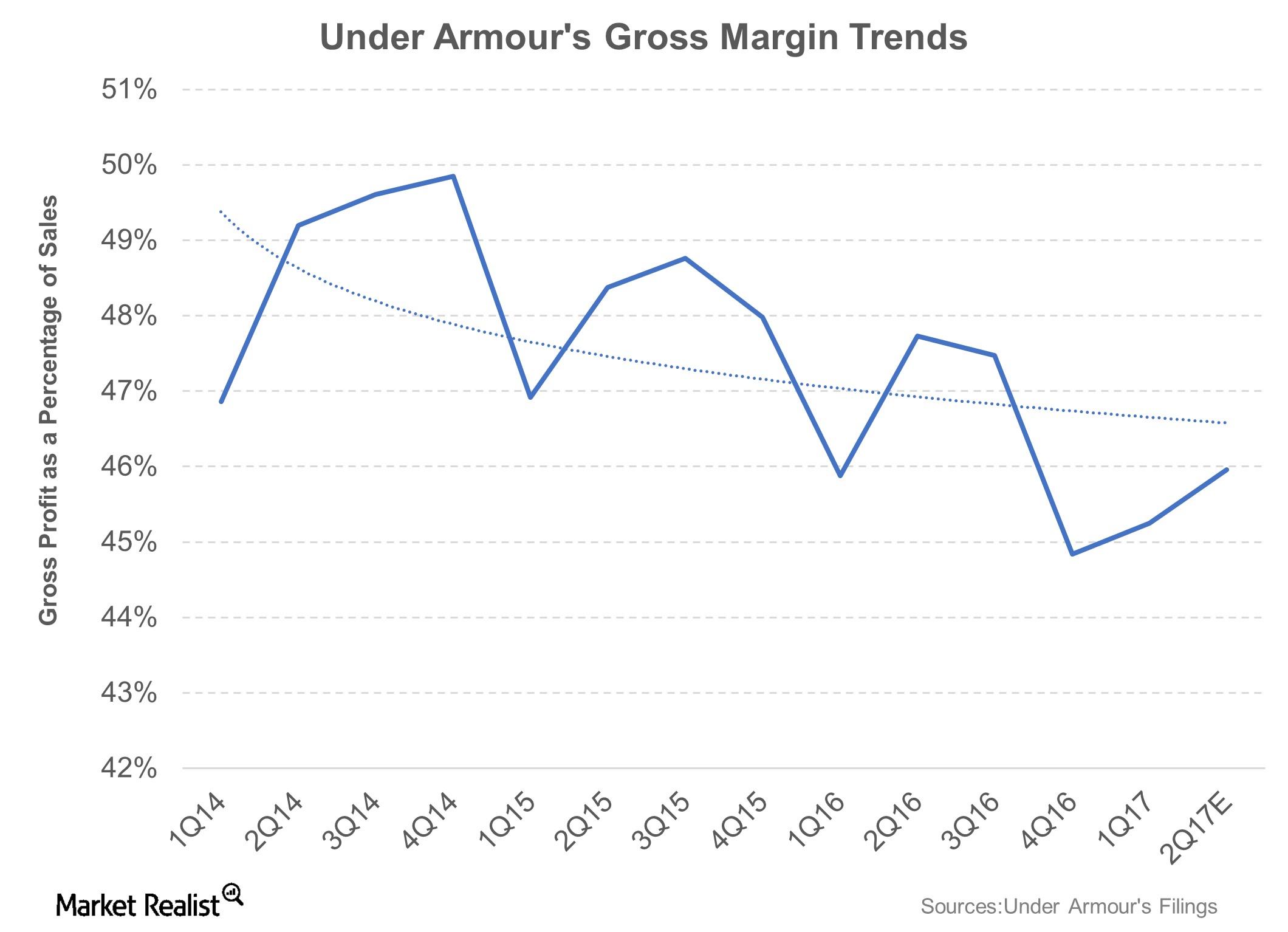 Under Armour's profitability
As we discussed previously, Under Armour (UAA) is scheduled to report second quarter results on August 1. The company is expected to report a loss of six cents per share in 2Q17, which follows a loss per share of one cent in the first quarter.
The company's profitability has been under pressure for the last year and a half, primarily because of a highly promotional environment, rising costs, and ongoing currency headwinds.
Article continues below advertisement
Article continues below advertisement
Gross margin to plunge another 180 basis points in 2Q
After reporting a gross margin decline of 160 basis points in fiscal 2016, the 1Q17 decline was around 70 basis points. Gross margin stood at 45.2% of sales during 1Q.
For 2Q17, Wall Street has predicted another 180-basis-point fall in gross margin to 46% of sales. Aggressive inventory management, higher air freight expenses, and currency headwinds are likely to drive this decline.
UAA to report operating loss in 2Q
Under Armour is likely to post an operating loss of $23 million in 2Q in comparison to an operating profit of $19 million in 2Q16. Driving the loss are the company's rising demand creation expenses in the international, direct-to-consumer, and footwear businesses. In addition, a shift in timing of marketing and other expenses are expected to taper profitability.
Comparing profitability with peers
Under Armour has the lowest operating margin among the major sportswear players. Its trailing-12-month (or TTM) operating margin stood at 7.2% of sales as compared to TTM margins of 16.3%, 13.8%, and 9.1% for Lululemon Athletica (LULU), Nike (NKE), and Columbia Sportswear (COLM), respectively.
ETF investors seeking to add exposure to Under Armour can consider the PowerShares S&P 500 High Beta Portfolio (SPHB), which invests 0.83% of its portfolio in the company.
In the next article, we'll discuss UAA's stock market performance and valuations.