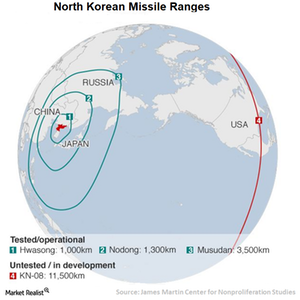 Will North Korea Undermine Broader Asian Markets?
By Matthews Asia

Jul. 24 2017, Updated 1:35 p.m. ET
Matthews Asia
The Asia region is not without its homegrown political risks—North Korea poses an ever-present threat to peace and stability. Notwithstanding China's role in trying to rein in North Korea is the potential for a more aggressive U.S. policy under the Trump administration that means the range of potential outcomes varies from the benign to the very serious—with little in between. Once again, the market, unable to factor in one extreme outcome or another, chooses to assume the status quo.
Article continues below advertisement
Market Realist
Investors are undermining geopolitical tensions in the Korean peninsula
Under Kim Jong-Un, the North Korean government has adopted a more aggressive stance toward its regional adversaries, fueling unprecedented tension in the region. The country's nuclear and ballistic missile program is making gradual headway, and the nation is now on the verge of conducting its sixth nuclear test—a step that could arouse retaliatory action from the US. If one thing is clear, the US will not likely tolerate North Korea developing an intercontinental nuclear missile that could threaten the US.
North Korea's threat
Meanwhile, China (FXI) has also stepped up pressure on North Korea by agreeing to crack down on Chinese banks that are financing North Korean trade, suspending fuel sales, and deferring coal purchases. Amid such rising tensions, North Korea has threatened to attack major American military bases in South Korea as well as the presidential house in Seoul.
Article continues below advertisement
Need for caution
These escalating tensions in the region could provoke the US to use military force against North Korea. In such an event, there are risks that would likely depress investor confidence and could affect capital flows that would derail any future market rally.
Over the past few years, investors have become accustomed to geopolitical tensions rising and dissipating gradually. For this reason, the general opinion is that the current scenario—and any potential crisis surrounding North Korea—will also blow over soon.
That said, an outbreak of war would have very serious consequences for global and Asian economies and markets (AAXJ). The South Korean (EWY) market, where Kospi (Korea Composite Stock Price Index) has advanced 18% year-to-date, would be rattled, while the Japanese (DXJ) (EWJ) market could see the same fate.