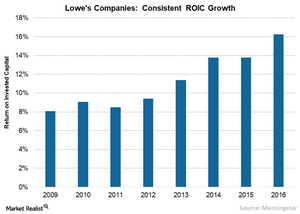 Lowe's: Great Business Built on Logistics Strength
By VanEck

Updated
VanEck
Lowe's Companies (LOW US) is the second-largest global home-improvement retailer (behind Home Depot). Morningstar Research gives Lowe's a "wide economic moat" rating based on the company's low-cost position, but the company also benefits from several intangible assets. "The business has been built on customer service, knowledge, and innovation, which are top notch in the home-improvement business." Lowe's also has competitive advantages based on its information technology platform and distribution network, which are key differentiators. The firm has created an integrated supply chain that efficiently routes nearly 80% of all Lowe's merchandise through one of 15 regional distribution centers. Finally, Lowe's strength in logistics and scale generates significant bargaining power with vendors.
Article continues below advertisement
Market Realist
Lowe's has developed an efficient supply chain
Lowe's Companies (LOW) operates 2,129 home improvement and hardware stores (XLY) (VCR), which represent a total of ~213 million square feet of retail (XRT) selling space in the United States, Canada, and Mexico.
The company not only provides products to its customers but also offers expertise all the way through to the completion of projects, thereby building long-term trust and loyalty.
Efficient supply chain
Lowe's serves more than 17 million customers per week in the United States, Canada, and Mexico. The company efficiently sources products from vendors and manufacturers across the world, and it's developed alternative suppliers for most of its products.
For efficient product movement, the company owns and operates distribution facilities that enable the smooth flow of products from vendors to end customers. The company operates 15 highly-automated distribution centers in the United States that serve its retail stores in the country. The company also owns and operates distribution centers, including lumber yards, in the Canadian market.
Competitive advantage
The efficient supply chain Lowe's has developed over the years has provided it with a substantial advantage relative to its competitors (HD). It's also helped the company to improve its return on investment and its margins.
LOW's ROIC (return on invested capital) rose from 8.1% in 2009 to 15.8% in 2016, and its operating margin expanded from 6.6% in 2009 to 9.0% in 2016.